Running alongside Little Britain and King Edward Street is Postman's Park, it's a hub of history. Opened in 1880 it was the site of the former graveyard for St Botolph's Aldersgate church. The name Postman's Park came from the neighbouring GPO (General Post Office) building on St Martin's Le Grand.
The General Post Office:
Demolished in 1912 the GPO building was an impressive Grecian styled building with ionic topped columns forming a portico frontage, construction started in 1825 and it was completed in 1829. It was designed by Robert Smirke, a leader of Greek revival architecture. He designed the facade and main block of the British Museum.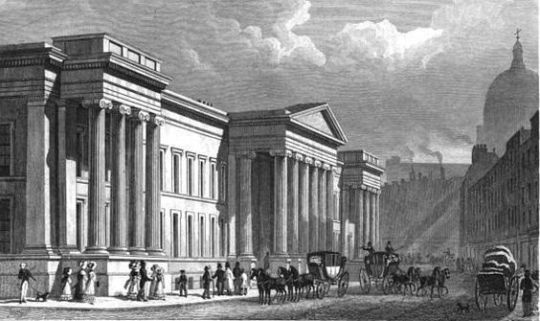 General Post Office

The GPO Building (East) was the UK's first purpose-build post office and sorting unit, it was said to have had 1000 gas powered lights. It had it's own Pneumatic railway from 1869 installed by the London Pneumatic Despatch Company. Unlike the vacuum tubes of today, these where underground pipes with a small railway open topped wagon inside. A line was set between Euston Station and the General Post Office, however it was not as efficient than cart, so it was terminated in 1874.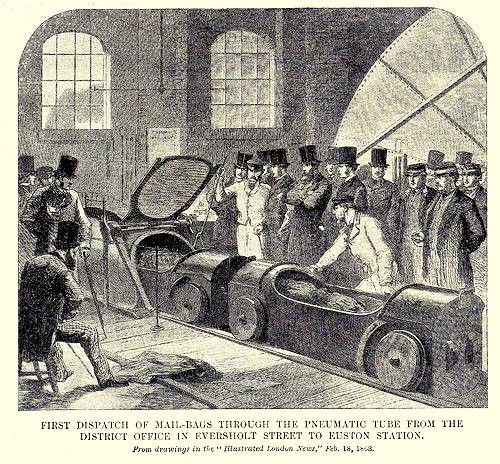 It was due to the General Post Office Building that when the Underground station opened on 30th July 1900 it was called 'Post Office' station. When the station, then called 'St. Paul's' was renamed 'Blackfriars' in 1937, the underground station for 'Post Office' was renamed 'St. Paul's', as the GPO building was long gone at that time.
Postman's Park:
The graveyard belonged to three parishes, all with a section to bury their congregations. During the construction of the park in 1880, the designers found that many of the graves where buried in shallow plots, stacked on top of other deeper graves. It was due to this that the ground level of the graveyard was higher than street level. The graves were cleared for gravel paths and flower boarders and the headstones stacked on the sides of the park.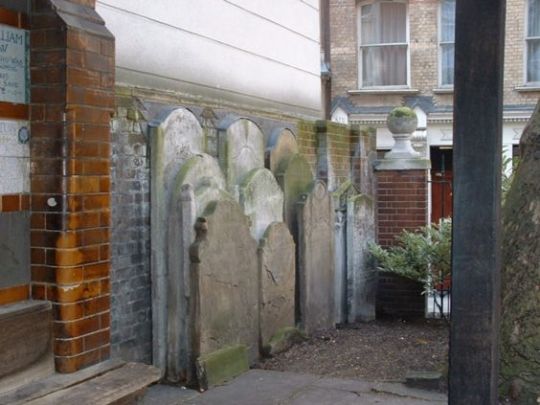 George Frederic Watts suggested a memorial commemorating ordinary people who died saving the lives of others and who might otherwise have been forgotten. A painter and sculptor, George Frederic Watts and his second wife Mary had long been advocates of the idea of art as a force for social change. As the son of a piano maker, who reportedly despised the wealthy and powerful and twice refused a baronetcy, Watts had long considered a national monument to the bravery of ordinary people.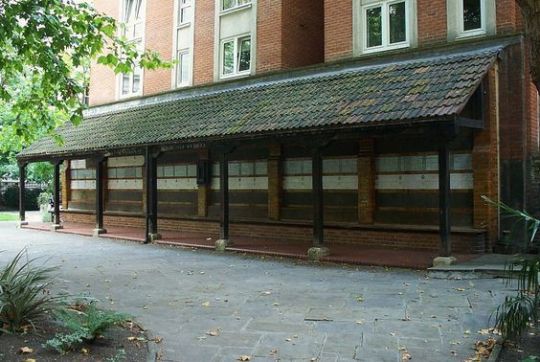 The monument was a covered shelter against a wall, with seating and, above head level, plaques to the heros to be fitted to the wall. The plaques where designed by William De Morgan. Work began in 1899, and on 30 July 1900 the 'Watts's Memorial to Heroic Self Sacrifice' was unveiled by Alfred Newton, Lord Mayor of London in an unfinished state, with only four of the plaques completed.
Watts was an acquaintance of William De Morgan, at that time one of the world's leading tile designers. The idea of designing on tiles was a great saving to the project as engraved stone and the time to obtain, carve and install it, was a great expense.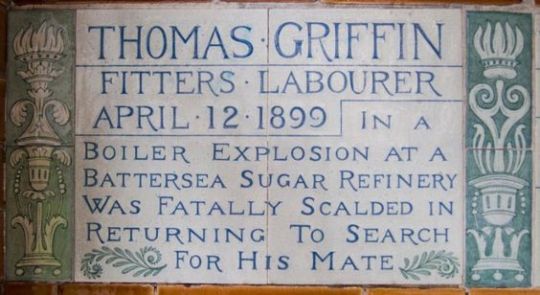 A William De Morgan tile set.
The subjects of the 13 initial tiles had been personally selected by Watts, who had for many years maintained a list of newspaper reports of heroic actions potentially worthy of recognition.
On 1 July 1904 George Frederic Watts died at New Little Holland House, aged 87. He was hailed "The last great Victorian", and a memorial service was held in St Paul's Cathedral, 300 yards south of Postman's Park, on 7 July 1904.
The project was continued by his wife Mary Watts. De Morgan designed eleven more tiles to complete the first row at £62 (about £6,000 as of 2015). De Morgan was unwilling to compromise on quality or embrace the trend towards mass production, and by this time his work was significantly more expensive than similar works by other designers. Consequently, his ceramics business was becoming increasingly unviable financially for the monument and it's Trust. In 1906 De Morgan's first novel, Joseph Vance, was published and became a great success, prompting De Morgan to close the ceramics business in 1907 to concentrate on writing. Mary Watts attempted to replicate De Morgan's tile designs at Watts's pottery in Compton but was unable to do so, and investigated other tile manufacturers.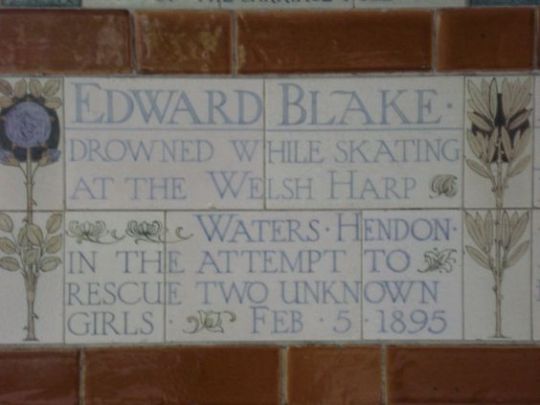 A Royal Doulton tile set.
All 24 tablets of the fourth row, designed and manufactured by Royal Doulton, were added as a single batch in August 1908. A single Royal Doulton tablet to PC Alfred Smith was added in June 1919, followed in October 1930 by similar Royal Doulton tablets to three further police officers, and a replacement tablet with the correct details of the East Ham Sewage Works incident of 1895. A single tablet made by Fred Passenger in the original De Morgan style, honouring schoolboy Herbert Maconoghu, was added in April 1931 to fill the gap in the centre row left by the removal of the original, incorrect tablet to the victims of the East Ham Sewage Works incident.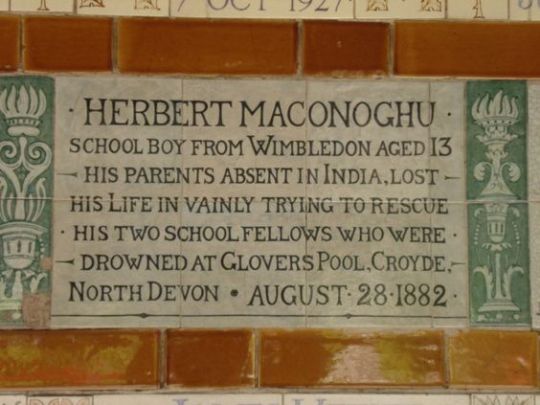 In 2009 a 54th tablet was added, in the style of the Royal Doulton tiles, to commemorate print technician Leigh Pitt, the first addition to the wall for 78 years.