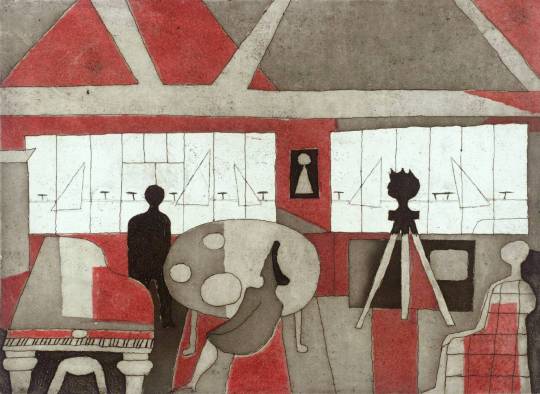 Julian Trevelyan – Durham Wharf, 1971
This was a post about the garden of artists Mary Fedden and Julian Trevelyan that is listed in the Architectural Press's book 'The New Small Garden' by Marjory Gill and Susan Jellicoe in 1956. But it has grown into a history of Durham Wharf and the artists that surrounded it. The garden text is at the bottom of the post but I try to explain the history of this remarkable building that is currently being monstered by modern architects.
Durham Wharf
Durham Wharf is a set of sheds on a site overlooking the Thames between Hammersmith and Chiswick. In the 1920s they had been studios for Eric Kennington who used one for painting and sculpture and his wife Celandine Kennington used one as a printing factory for the 'Footprints' fabrics company she was sponsoring. Some of the artists for Footprints were Joyce Clissold, Elspeth Little, Gwen Pike, Doris Gregg and Paul Nash. So the Wharf's history is rather remarkable.
Celandine colonised the buildings with Footprints, a hand-printing operation of fabrics, later run by Joyce Clissold (1905-82), which supplied two London shops, from 1925, with modern textiles and was one of the last design workshops to carry on a direct tradition from the Arts and Crafts revival. ‡
During the early 1930s, Julian Trevelyan moved into the studios with his first wife, the potter Ursula (Mommens) (nee Darwin), she was the sister of Robin Darwin who would employ Julian at the Royal College of Art in the 60s. Below is a description on how they found the wharf:
They came upon two derelict sheds beyond which, they could see, was a cinder yard which appeared to be full of junk. This unprepossessing property, Durham Wharf, casually encountered, became the home and workplace where Julian would live for the rest of his life. The 'junk' was lumps of stone, left behind by the artist Eric Kennington who had made sculptures in the main studio.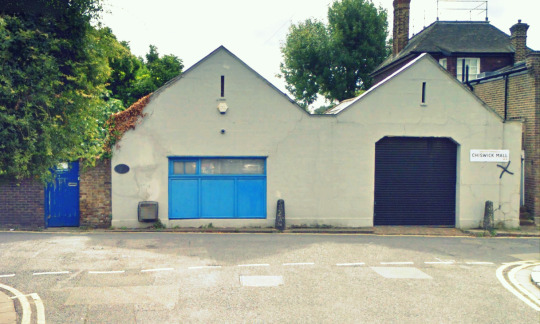 View of Durham Wharf from the Street with the front white facade. (2016)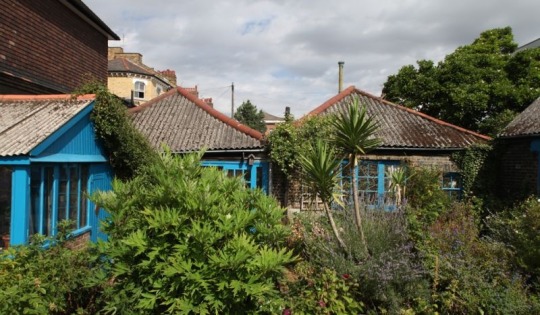 View of Durham Wharf from the garden. (2016)
Durham Wharf had originally been the depot where coal from the northeast was unloaded but after the 1920s when it had ceased being used for the unloading and distribution of coal, in more recent times it had served for as studios for various artists including Eric Kennington, the sculptor, and Len Lye, the experimental film-maker.

After taking out the lease on the Wharf, Julian and Ursula immediately enlisted their friend the architect Christopher Nicholson, the older brother of Ben Nicholson, and an early pioneer of the Modern Movement in architecture, to convert the buildings into living and working studios establishing a kiln for Ursula and studios for Julian to paint and do print making in. Living standards were basic at Durham Wharf but Julian decorated the Wharf with works had bought back from Paris by Picasso and Alexander Calder.

Durham Wharf became a centre of artistic creativity not only for Julian and Ursula but also for other artists who met and socialised there, the list of artists who visited Durham Wharf reads like a who's who of Modern British Art. The annual boating parties Julian organised at the Wharf became celebrated occasions and it was at one of these parties that he was to meet the artist Mary Fedden who became his second wife. †
Before Julian and Ursula they were married shared an exhibition of his paintings and her pottery at the Bloomsbury Gallery in March, 1934. They married in the autumn.
The watercolours and gouaches were simple, direct depictions of their subjects. They were immediately successful and sold well in an exhibition at the Bloomsbury Gallery. ◊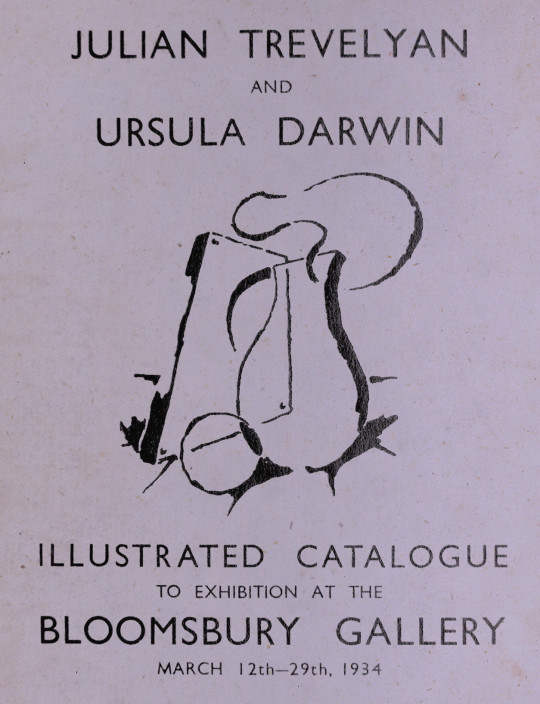 Cover to the Exhibition Catalogue for the artists at the Bloomsbury Gallery
In 1935 Trevelyan bought Durham Wharf and Ursula moved in. The Wharf had a shop window facing the roadside but it was only accessible via the wooden gate at the side of the property, the couple set up a gallery in this space for themselves and their friends.
Almost immediately after settling into Durham Wharf, Julian and Ursula used an existing shop window to set up a 'picture circulating library'. This was a part of the Wharf buildings where new pictures could be displayed and loaned to people who rang the doorbell and took a serious interest in the works. Potential purchasers were offered the chance to hang a picture on their walls, before deciding whether to buy it. This was a simple system based on trust, and many contemporary English artists (and some from Paris) sold pictures in the scheme. It was one of the many ways in which Julian endeavoured to help fellow artists. John Tunnard, Cecil Collins, Ceri Richards, Henry Moore, Victor Pasmore, Graham Sutherland and Ivon Hitchens were all involved at some stage. ○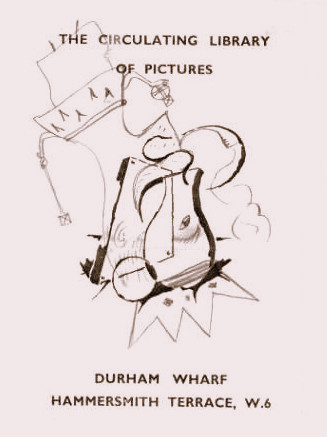 A leaflet for the Picture Circulating Library at Durham Wharf. Using the design from the Bloomsbury Exhibition Catalogue cover and a doodled king on top.
The area was becoming fashionable for artist to live cheaply outside of central London. In the late 1920′s the area has its own artist community; 'The Chiswick Group', a set of artists in the area much at the same time as the Bloomsbury, Camden Town and Chelsea groups. Artists known to be in the group were painters William McCance, Raymond Coxon, William Coldstream, Nicola Counsell, Edna Ginesi, Eric and Celandine Kennington, Elizabeth Violet Polunin, and the list of Footprint artists above due to the studios location. The sculptor Gertrude Hermes was a member, as was the writer A.P. Herbert and his painter wife, Gwen Herbert.
The Chiswick Group was a conspiracy of talents outside the common hierarchy, inclusion was not conferred by privilege alone. ‡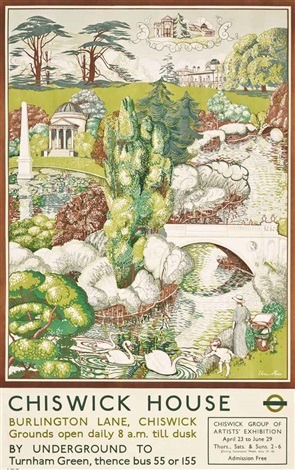 Vera Ross – Chiswick House, 1937 – An advert for the Chiswick Group can be seen in the bottom right corner.
Durham Wharf itself provided a worthy subject for a series of paintings executed in the 1940s of which our Durham Wharf is one of the most striking. First worked on in 1940, Julian returned to complete the painting in 1943. Depicting himself and Ursula in the garden of the Wharf, it's hard to conceive that it was painted in the middle of the Second World War. †
The painting referred to is below.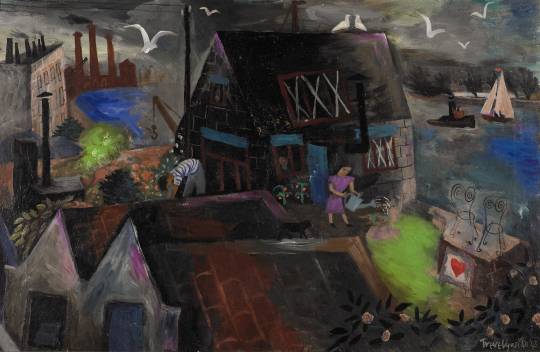 Julian Trevelyan – Durham Wharf, 1943
For the Trevelyans it (Durham Wharf) was home and studio, and the centre of a lively social life – the high point of which was their annual Boat Race party. All sorts of friends and acquaintances were invited to this "beer and buns" jamboree over the years. Dylan Thomas, Stanley Spencer, Cyril Connolly and A P Herbert all attended, and on another occasion Auden and Isherwood were given a send-off party on their way to China. ♠
At the Isherwood and Auden party were: E.M. Forster, Benjamin Britten. There was a fight with poet and writer Brian Howard and socialite Eddie Gathorne-Hardy. It must have been quite an evening:
It was estimated that between 200 and 300 people were crushed into Durham Wharf, and the event ended, Trevelyan recalled, 'in a bit of a rough-house'. According to Britten's elliptical diary, even before his party arrived at Durham Wharf there had been a 'colossal row – on phone Christopher & me v. Rupert Doone'. This presumably concerned the forthcoming production of 'On the Frontier', which was to have taken place at the Cambridge Arts Theatre during the authors' absence abroad, supervised by Britten and Spender, who were both now directors of the Group Theatre. Medley recalled that the two playwrights arrived at the Durham Wharf party:

Suitably late for a star entry, accompanied, as if on a state visit, by Prime Minister E. M. Forster; Secretary of State Cyril Connolly; and supported by the drunken halberdiers Brian Howard and Edward Gathome-Hardy. Predictably, these latter soon invaded the out-of-bounds bedroom and were discovered by Julian holding a private party on the bed. After a sharp exchange, during which Howard loudly proclaimed that he would not have his best friend, Eddie, insulted by the worst painter in London, Bob Wellington [the Group Theatre's business manager] was called in to attempt an eviction, and was immediately challenged to a fight in the small courtyard, in the centre of which was a newly planted magnolia. This ridiculous combat, which I witnessed less as a referee than as a kind of policeman on behalf of the management, lasted but a few moments, as Bob's Spectacles were knocked off his nose, and Eddie was too drunk to press his advantage.

This version of events (one of many), is disputed by Trevelyan's second wife, Mary Fedden, who said that the principal fight (perhaps also one of many) was between Trevelyan and Connolly, who disliked each other. Unsatisfied by the drink on offer, Connolly ostentatiously produced a hip flask, which was subsequently handed round. When it reached Trevelyan, Connolly bellowed: 'I'm not having that man drink my bloody whisky'. Trevelyan promptly knocked Connolly down, whereupon he was floored by one of Connolly's friends. At the end of this altercation, several distinguished members of what the Sunday Times described as 'London's literary and artistic clans' were to be seen 'bleeding in the flowerbeds'. 'Beastly crowed & unpleasant people' Britten noted in his diary. 'Christopher leaves in temper'. ♣
After ten years of marriage, Julian and Ursula would be in trouble and Julian would fall in love with Mary Fedden. Julian and Ursula had a son called Peter in this time but Julian divorced Ursula in 1950 and married Mary Fedden in 1951. Mary moved in and lived there long after Julian's death in 1988. Fedden dying in 2012.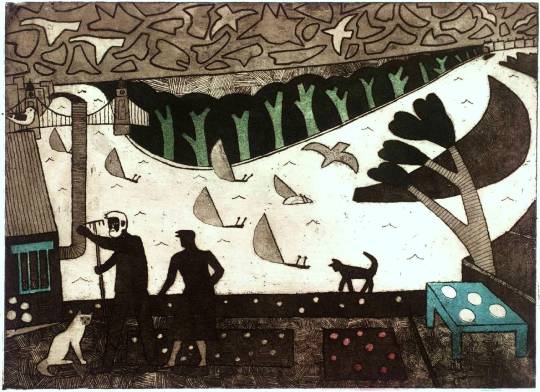 Julian Trevelyan – West Wind, 1983
In the 1960s the Shepherd's wood-yard that was next door to Durham Wharf burnt down. Durham Wharf was unharmed but Trevelyan purchased the land and with architect Michael Partrick they developed a set of studio houses, finished in 1974. They were designed for artists to use and it is a condition for those who want to live there. The development was named St Peter's Wharf. Noted occupants have been Hugh Cronyn, Prunella Clough, Bernard Myers and Barbara Brown. Artist Ben Johnson lives here and is chairman of the Trevelyan Arts Trust. ♥
The buildings are still standing today but are sold as artists studios only.
---
A Riverside Garden in Chiswick From 'The New Small Garden'.
From a study of the plan alone, this garden would appear to be formal, but in reality, although the 'bones' of the design are regular, the skilled placing of individual plants of character has given the narrow entrance garden and the outdoor-living garden an air of bohemian casualness. The artist owners, Julian Trevelyan and his wife, Mary Fedden, had two thoughts uppermost in their mind; to have a garden that would look after itself when they were away for long periods abroad, and a garden suited to sociable living. They were faced with the need for getting rid of a substantial quantity of surplus rubble and rubbish, and rather than meet the cost of having it carted away (always an expense in towns), they used it to create interesting changes of level. Much of it was used to make the raised platform in the corner, which gives a view down river and serves as a shady terrace for tables and benches. To vary the levels in a small garden is a happier solution for disposing of rocks and bricks than using them to make the all too familiar pseudo-rock garden. A rock garden, by its very nature, should be associated with an open landscape, and perhaps one of the secrets of good taste, as shown in this garden, is that the conception should be appropriate to the circumstances.
The grass plots and flower beds are all raised above the home-made, random rectangular paving, edged with old brick. It is a collector's garden in the sense that most of the plants have been raised from seeds and cuttings gathered in other countries, from the gardens of friends or from the hedgerows. Full value is given to plants that have beautiful shape and foliage; it could be said, in fact. that the stately giant cow parsnip or the mullein with its towering candelabra of flowers, are treated almost like pieces of sculpture to give a sense of form and emphasis. An interesting comparison can be made between this garden and that of Barbara Jones. Both depend on appreciation of plant form, but whereas Miss Jones chooses to arrange her plants so that the shape and texture of one acts as a fell to others, Mr. Trevelyan is not so much concerned with the juxtaposition of plants as with an appreciation of the value of the form of the individual plant. Being artists with a cosmopolitan background, Mr. and Mrs. Trevelyan naturally enjoy good food and although they have no room for growing vegetables, full use has been made of the soil between the paving stones to grow many herbs.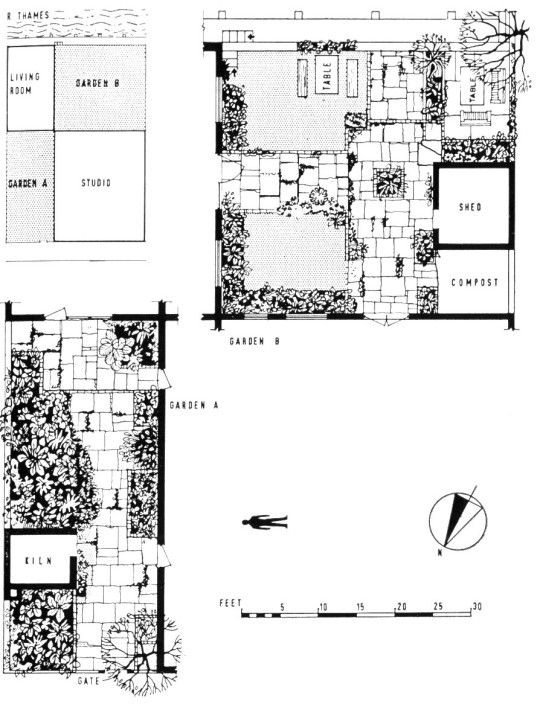 The bold, branching flower stems and the finely cut foliage of the common fennel are not only a decoration in the garden and in the house, when cut, but are used in sauces or as a garnish. Mint, various thymes, basil, tarragon and chervil, a bush of sage and a clump of marjoram are all herbs that grow well in such a situation.
Both the entrance garden and the living garden depend largely on plants with restful grey-green leaves, such as the Cistus purpureus with its familiar Mediterranean scented foliage, plantain lily and the stately plume poppy, which likes to be planted in partial shade so that its leaves have shelter and the strong inflorescences can grow into the brighter light above. The grey-leaved Alyssum saxatile Sedum cauticolum with its blueish-grey waxy leaves, and other small plants billow out. informally over the paving. In the entrance garden a Clematis montana rubens throws its pink flowers over the kiln and can be enjoyed over the top of the six-foot wall by passers-by. On the boundary wall of the entrance garden a sweetwater vine grows freely and once produced thirty eight pounds of white grapes to make sixteen bottles of home made wine. Outdoor vines, if they are to fruit well, need a sunny aspect, adequate drainage and good fibrous loam to start them Oh". As they are gross feeders it is well to fortify them with well-decayed farm-yard manure and coarse bone meal. A good substitute for farm-yard manure, which is by no means easy to get in towns, is well-rotted compost, and it will be noticed that Mr. Trevelyan has made provision for his compost heap in a corner of the outdoor-living garden.
The entrance garden. leading from the road to the living-room (A on plan)
The plants on the right. mostly in shade, are herbs and other grey-green leafed plants, culminating in the dramatic group of grant cow parsnip.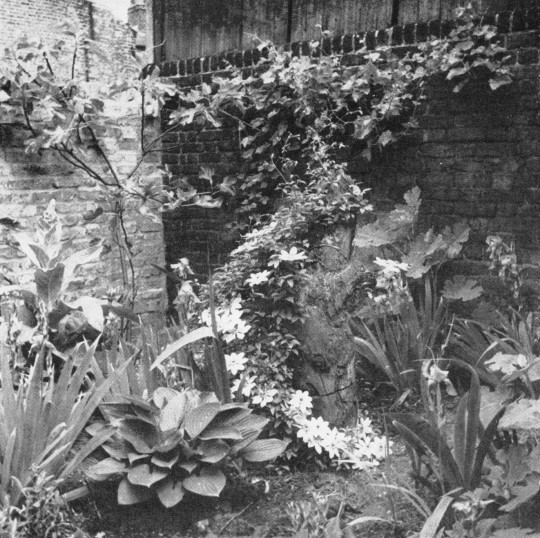 Immediately to the left inside the gate is an essay in colour and texture, With a Clematis Nelly Moser; climbing over an old tree stump as the central feature.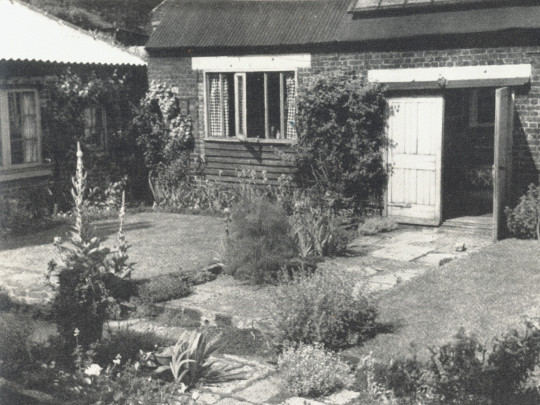 A general View of the Inner garden (B on plan).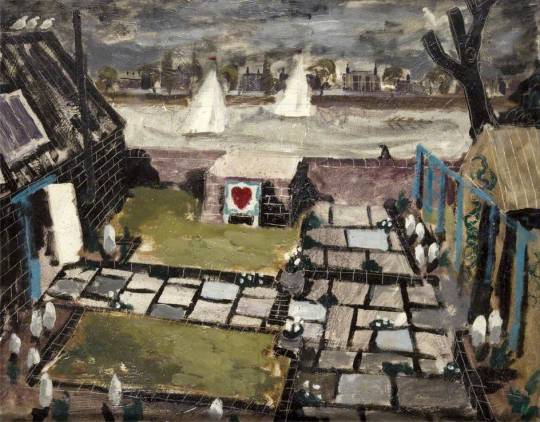 Julian Trevelyan – Durham Wharf, 1943
Trevelyan wrote of the wharf: "Here I put down my tap root: my life was measured by its tides and my dreams were peopled by its swans and seagulls." One painting records the wharf as Trevelyan saw it in the 1940s: a patch of bright green against a still industrial background of smoking chimneys. ♦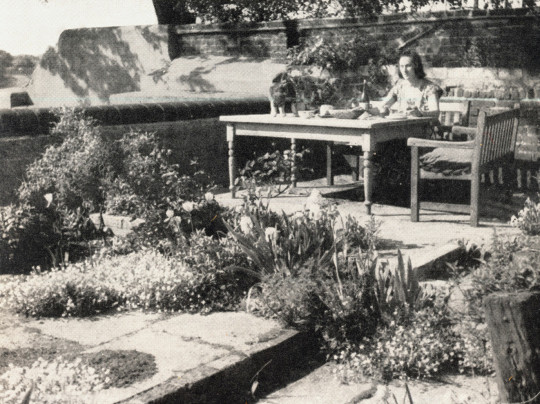 Lunch on the raised terrace overlooking the Thames.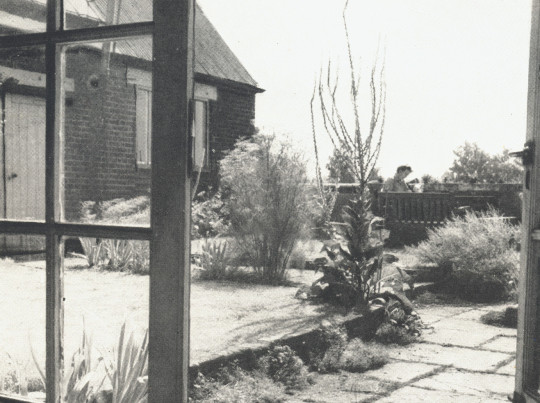 Seen from the studio the mullein has the quality of sculpture. The fennel beside it sends up a fountain of feathery leaves.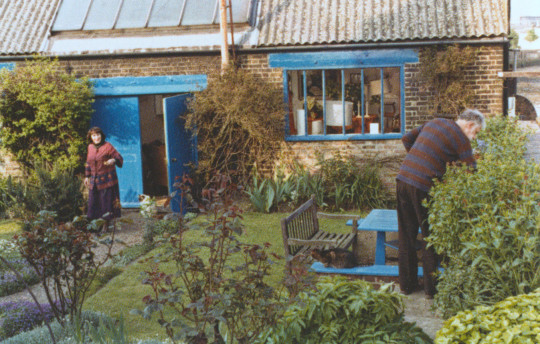 Mary and Julian in the garden.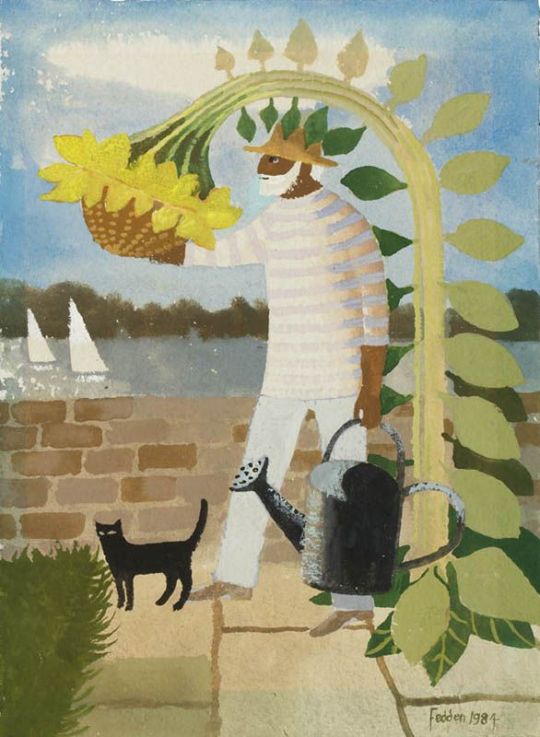 Mary Fedden – Julian and Sunflower, 1984
† Philip Trevelyan – Julian Trevelyan, Lund Humphries, Farnham, p143, 2013.
‡ Jane Hill – The Sculpture of Gertrude Hermes – p13-14, 2011
♠ Andrew Lambirth – Julian Trevelyan and Mary Fedden, The Telegraph, 18 May 2013
♣ Peter Parker – Isherwood, p371, 2005
♥ Panorama of the Thames website.
♦ Maev Kennedy – 5 September 2016
◊ Jose Manser – Mary Fedden and Julian Trevelyan, 2012.
○ Philip Trevelyan – Julian Trevelyan: Picture Language, 86-87, 2013