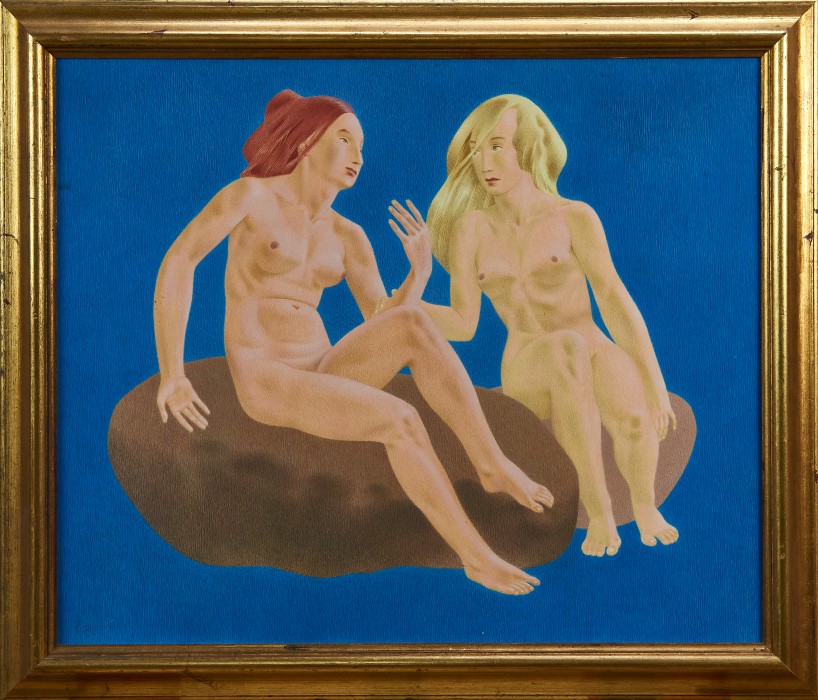 Francis Plummer (1930-2019) – Two Nudes, Egg Tempera
Born on the 27th of March 1930 in London, Francis Plummer studied art and design at the Woolwich Polytechnic School of Art where he graduated with the National Diploma in Design and Art. He then enrolled at The Royal Academy Schools between 1949-1954. His success there not only earned him a RA Diploma but also the coveted Leverhulme scholarship for £100.
Unusually for a post-war artist, Plummer started working in Egg Tempera, as the video below shows. For this form most often only the contents of the egg yolk is used. The white of the egg is discarded. Egg yolk is rarely used by itself with pigment; it dries almost immediately and can crack when it is dry. Some agent is always added, in variable proportions. One recipe calls for vinegar, but only in small amounts. A few drops of vinegar will preserve the solution for a week. (1:3 , 3 parts water, 1 part yolk; other recipes suggest white wine (1 part yolk, 2 parts wine). Some schools of egg tempera use various mixtures of egg yolk and water.
He began work as a medical illustrator for Guys Hospital designing graphics, which is something he continued to do at Bowater Design and Impala Marine Design as an illustrator. Plummer continued to be a jobbing artist and began to teach for the National Trust Teaching Practice following onto the Working Men's College, the South Thames College of Technology, the London Adult Community College and then for the Colchester Painting Practice.
However throughout this period of design and teaching work the artist was establishing himself for his artwork alone and was commissioned by the National Trust as well as appearing in collaborative exhibitions at the Grafton Engineering Private exhibitions, Leighton House Galleries, London Royal Academy Diploma Galleries and the London Leicester Galleries. In 1975 a one man show of his landscape and figure paintings entitled To be Born Again was moved from a gallery in Middlesbrough to the Alywn Gallery in Mayfair and was followed some years later by an exhibition at The Minories in Colchester.
Return to gallery