John Gilbey Bowles – The Royal Barge, 1953, Lithograph
John Gilbey Bowles was a student at the Royal College in Art from 1952. In 1953 his print was selected as one of the student entries for the Coronation Lithographs by the RCA. In 1953 he joined the Royal Society of Painter-Printmakers. He has work in the collections of Eccles Museum, Birkenhead Museum, Salford Museum & Art Gallery and the Williamson Art Gallery. His last known address was Sandown, Small Hythe, Tenterden, Kent.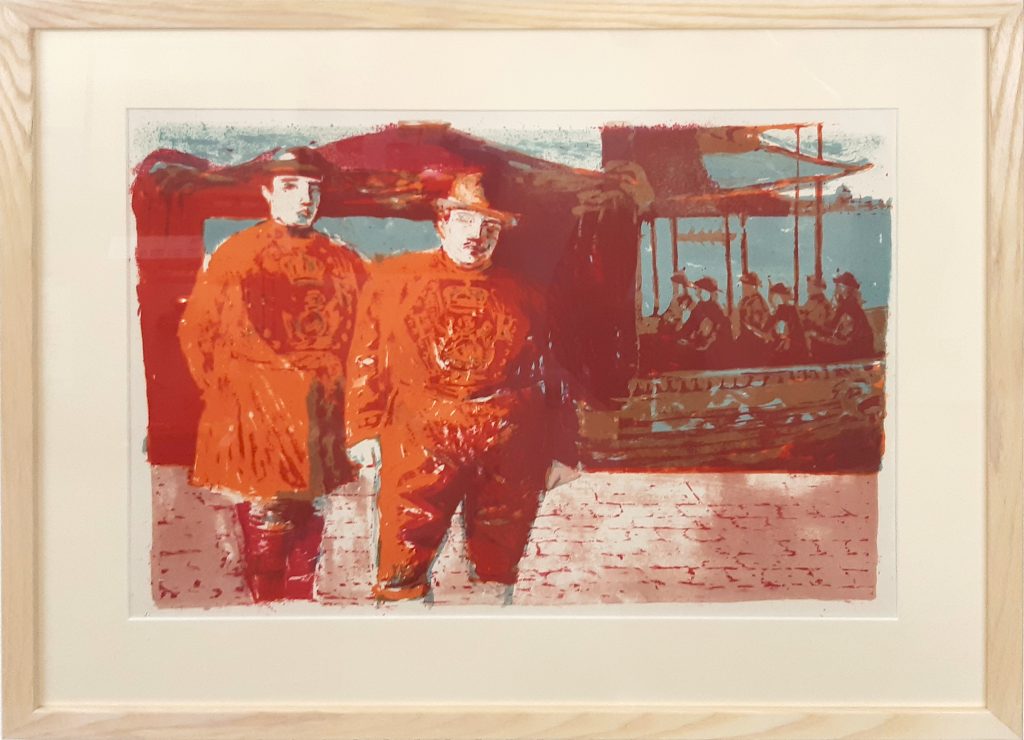 Picture size 46x34cm. Frame size 61.5 x 48.5cm
Lithography is a printing process that uses a flat stone or metal plate on which the image areas are worked using a greasy substance so that the ink will adhere to them, while the non-image areas are made ink-repellent. A printing process based on the fact that grease and water don't mix. The image is applied to a grained surface (traditionally stone but now usually aluminium) using a greasy medium: such as a special greasy ink. A solution of gum arabic and nitric acid is then applied over the surface, producing water-receptive non-printing areas and grease-receptive image areas. A roller charged with oil-based ink is rolled over the surface, and ink will only stick to the grease-receptive image area. Paper is then placed against the surface and the plate is run through a press.
Return to gallery