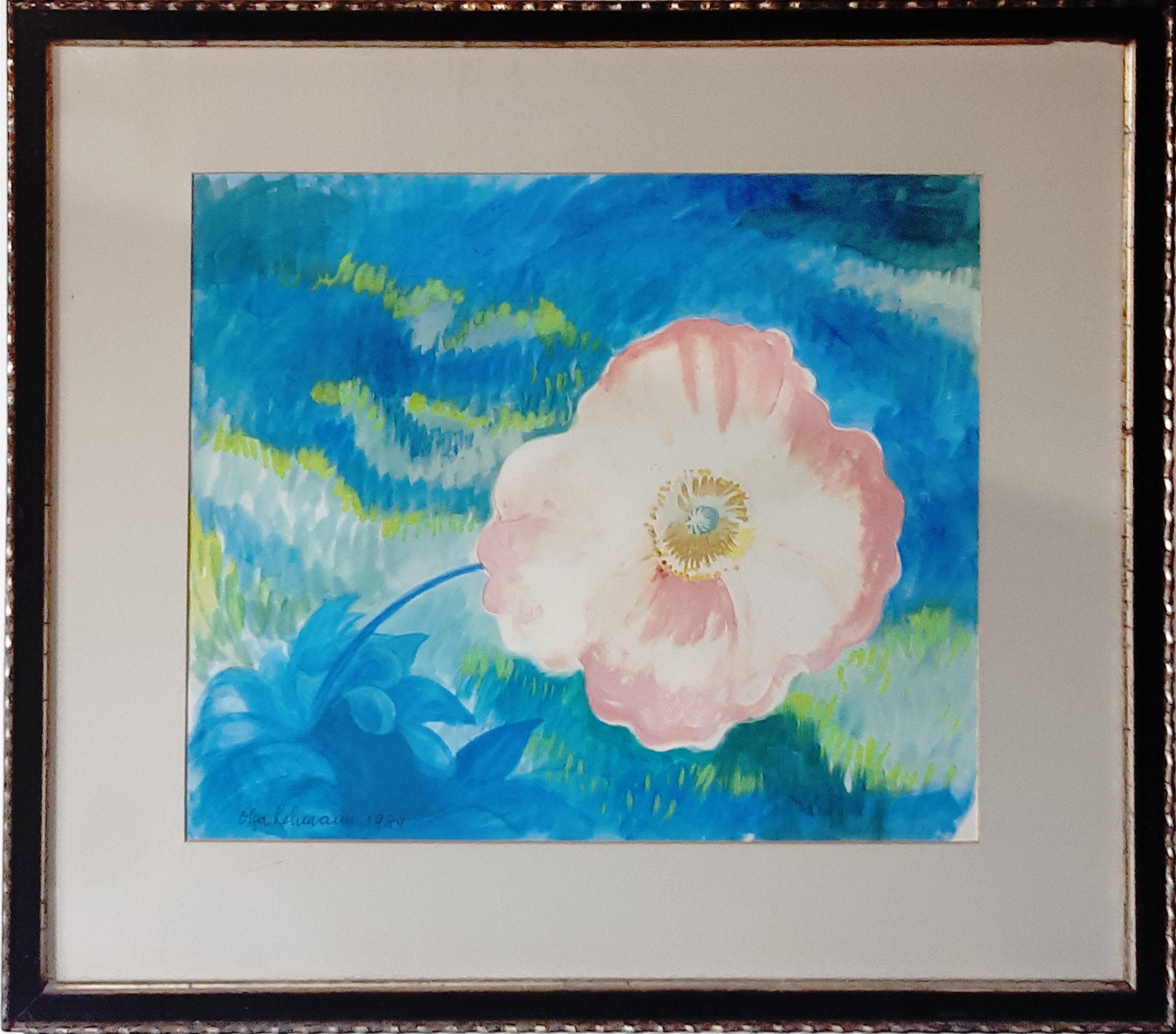 Olga Lehmann (1912 - 2001) – Summer Flower, 1989, Gouache
Born in Catemu, Chile, to a father of German and French descent (born in Paris) and a Scottish mother, Olga Lehmann was educated at Santiago College, Santiago, and in 1929 moved to England, where she was awarded a scholarship to the Slade School of Fine Art, London University.
At the Slade she studied fine art under the tutelage of Henry Tonks and Randolph Schwabe, specializing in theatrical design under Vladimir Polunin and in portraiture under Allan Gwynne-Jones. Awarded prizes in life painting, composition, and theatrical design, she visited Spain in the early thirties; Spanish and Moorish themes were subsequently reflected in her art.
Her productive working life as an artist spanned almost six decades, from the 1930s to the 1980s. Throughout the 1930s she acquired a reputation in the fields of mural painting and portraiture.
She exhibited her work at the Royal Society of Portrait Painters in 1933, and with the London Group in 1935. Later sitters of note consisted of people associated with the film or record industries such as singers Edric Connor, Carmen Prietto, conductor Richard Austin, and actors Dirk Bogarde and Patrice Wymore. During the Blitz in 1940, her studio-flat in Hampstead was destroyed by a bomb, and much of her early work was lost. She worked as an artist throughout the war, painting murals in canteens and offices.
After World War II, her name chiefly became associated with graphic design for the Radio Times, and designing for the film and television industries. She was nominated for several Emmys for her costume designs.
1977: Lehmann received an Emmy nomination for outstanding costume design on The Man in the Iron Mask.
1978: Lehmann received an Emmy nomination for outstanding costume design on The Four Feathers.
1981: Lehmann received an Emmy nomination for outstanding costume design on A Tale of Two Cities. Lehmann designed costumes for Rosemont's television films Ivanhoe and Witness for the Prosecution.
1984: Lehmann received an Emmy nomination for outstanding costume design on The Master of Ballantrae.
She also worked as an illustrator of many record covers including the famous BBC recording of Under Milk-Wood by Dylan Thomas. Her stage and set designs are some of her most collectable paintings.
In 1939 she married author and editor Edward Richard Carl Huson, by whom she had one son, author and television writer and producer Paul Huson. She was predeceased by her husband in 1984, and she moved to Saffron Walden into one of the 'Artisans Dwellings', a row of houses designed for artists and weavers of the town. Because of her history and that she lived for some time in Saffron Walden, Lehmann's work can be found in the Fry Art Gallery.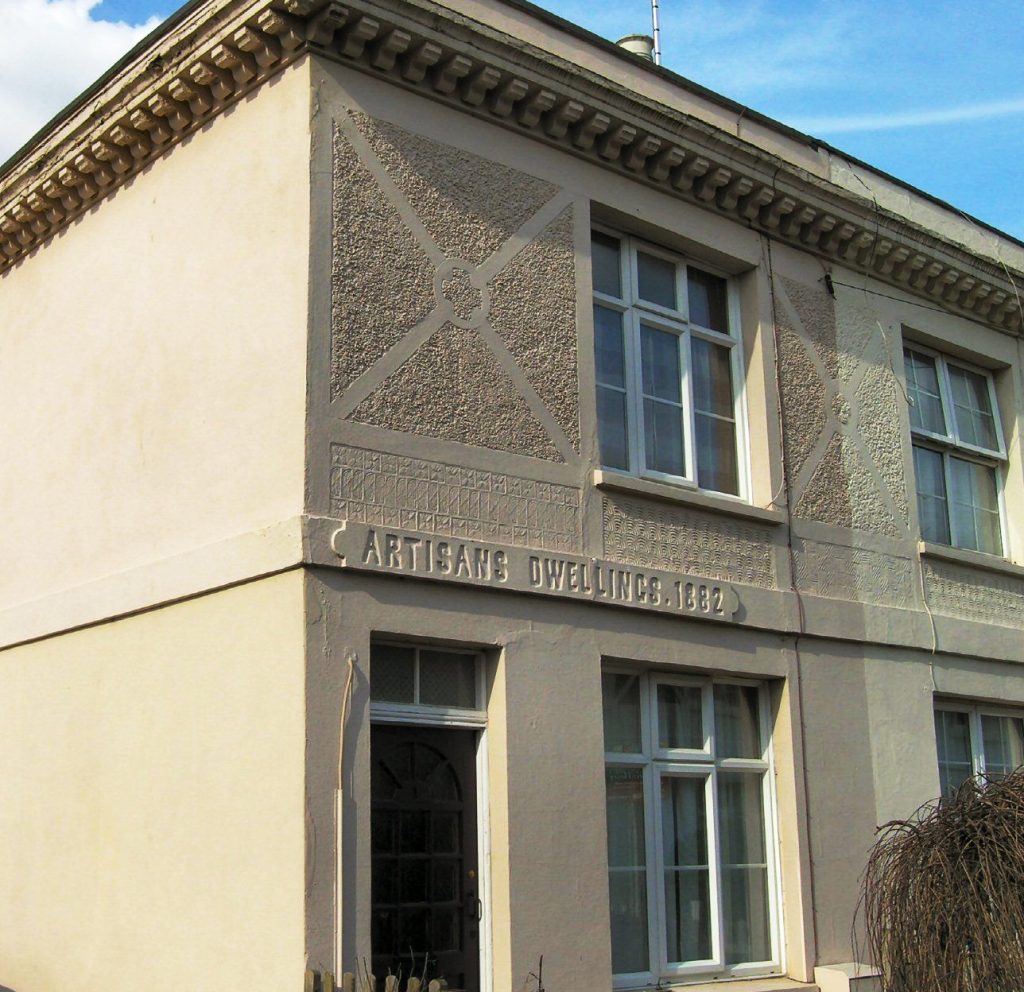 The Society was formed in 1930 and held its first exhibition at the Grafton Galleries in that year. Its aims were to meet a developing need for a central exhibition that would include all facets of art, without excluding any areas. The Society is a registered charity and its annual exhibitions, which were open to non-members, were held in February at the Mall Galleries. One of its founder members and later Chairman included Paul Drury, the renowned etcher. Other members who are now much acclaimed in the British art world include Mark Gertler, Jack B. Yeats, L. S. Lowry, David Bomberg, W. Russell Flint, Henry Moore, Bernard Meninsky, William Nicholson, Graham Sutherland, Christopher Nevinson and Frank Dobson.
Return to gallery