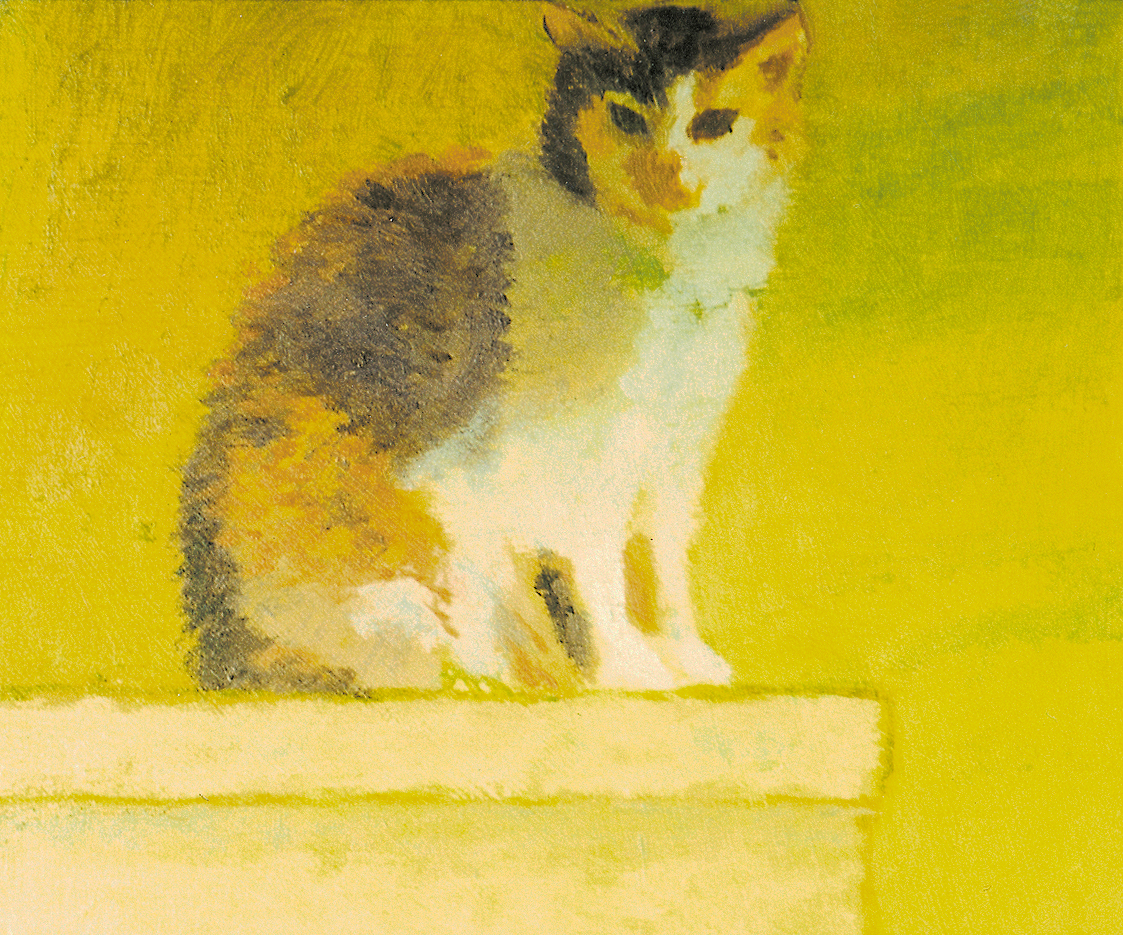 Eugene Fisk (1938 - 2018) – Sitting Cat, 1980, Oil on board
As a child in London during the war, Eugene was often taken to the cinema by his mother. Here, the potency of the icon made a profound impression on him – the image of the personality has been the focus of much of his life's work.
Eugene set out on his creative journey in adult life by working in repertory theatre. He was conscripted into National Service in 1956, and became an unofficial artist-in-residence to the Royal Army Ordnance Corps, portraying personalities of barrack-room life.
On becoming a monk within a religious teaching order he studied art at Farnham School of Art and Sussex University, and taught art before fully entering the life of the professional artist in 1976.
Eugene came to Wales in the mid 1980s with his partner the painter Elizabeth Organ. Together they created and ran the Kilvert Gallery of contemporary art at Ashbrook House – the home of the Victorian diarist Francis Kilvert – in Clyro, near Hay-on-Wye.
The gallery became a work of art in itself as well as a home and exhibition space. From here Eugene held regular courses in drawing and painting while continuing to work on portrait commissions and working for a time as Artist in Residence with the Welsh National Opera.
He exhibited his portraits and topographical paintings and drawings extensively, both in the Kilvert Gallery and throughout England and Wales.
Eugene later undertook portrait commissions from his home in Hay-on-Wye, and ran courses in drawing and painting. Exhibitions included Hay Heads: Paintings of the People of Hay – an ongoing interest and project for Eugene. Hay Heads
As an artist, portraiture was perhaps Eugene's first love but his enthusiasm for the history and architecture, the characters and community of a place was a lifelong passion. Wherever he went he recorded his experience of the personality of his surroundings in words, paintings and in the very individual line drawing with which he also illustrated a number of books, including Kilvert's Clyro Now and Azincourt, and OH HAPPY HAY!
He exhibited paintings of the Marches, Eastnor, Venice and many other locations, landscapes and gardens, and a book on a book about the historic sites visited by Giraldus Cambrensis (Gerald of Wales). Gerald of Wales was in preparation.
Eugene's last book Only Connect – his drawings of refugees with written reflections about his meetings with them during awaydays organised by the Hay, Brecon and Talgarth Sanctuary for Refugees – has been published. This was a subject very close to Eugene's heart, and a project with which he was passionately involved during his last years.
Sitting Cat, also called Kitty was exhibited at his memorial exhibition.
Return to gallery