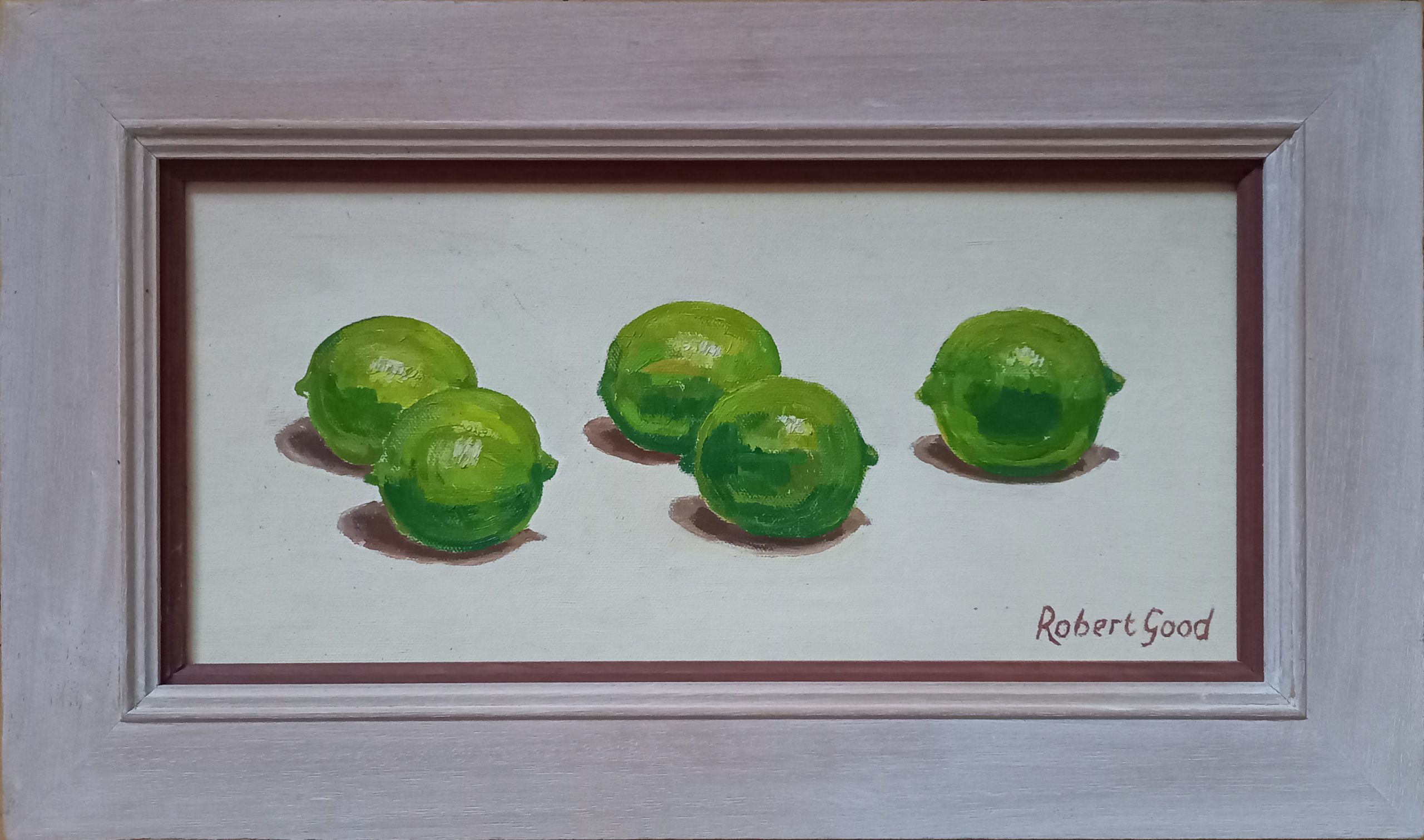 Robert Good – Limes, Acrylic on board
This painting is an early work of Cambridge artist Robert Good. Now working in a large and impressive selection of media, here is the biography from his website: Robert Good wrestles with words to consider the frailties of language and the problems of knowledge. He uses texts like tubes of paint: as material to be squeezed out and worked with. He is currently working with content from Google News and other online sources.
His podcast Something To Do With Art explores the creative process and asks experimental artists what they do and why.
He has previously worked with over 2400 Geordie dialect words, 500 Northumberland placenames and a large scale text installation at Skinningrove Mining Museum. His book A New Dictionary of Art has been stocked at Tate Modern, Kettle's Yard and galleries across the UK.
Robert Good holds an MFA with distinction from Cambridge School of Art, Anglia Ruskin University, winning the Searle Award for Creativity. He is the founder of Art Language Location, an artist-run organisation working at the intersection between art, text and place. He is based in Cambridge, UK.
Exhibitions:
2021 Bookworks Bower Ashton Library showcases, UWE, Bristol (December)
2021 Osmosis Espacio Gallery, Bethnal Green
2021 What If This Is Who We Are? Saturation Point, London
2021 What Is Real? Brooklyn, NY
2021 Dark Skies Festival Alice Springs Australia
2021 CONTAGION Science Gallery Bengaluru
2021 Leaning Tower BABE 2021:The Lost Weekend
2020 BREAKING Cable Depot, London
2020 (UN)REAL Science Gallery, Rotterdam
2020 Washing Line Thames-side Studios
2020 Cognitive Contation​ online, curated by Ben Woodeson
2020 Cambridge Wide Open ​Motion Sickness
2019 Winter Showreel ​The Window Project
2019 Shangri La Glastonbury Festival
2019 CONTINUUM Allenheads Contemporary Arts
2019 BREAKING Cambridge Artworks ​
2019 Word Bank of Lost Dialects The Word, South Shields with Jane Glennie
2018 BEYOND Belief Allenheads Contemporary Arts, Northumberland part of Great Northumberland
2018 Guest Projects 10 Year Anniversary Weekendwith Laboratory of Dark Matters
2018 BEYOND Open Door Artists' Residencies Allenheads Contemporary Arts, Northumberland residency
2018 PLACE: Relinking, Relating, Relaying Art Language Location curator
2017 Laboratory of Dark Matters Cleveland Ironstone Museum
2017 the Shelf Gallery Fordham
​​2017 Caravanserai Cambridge Artworks, Cambridge residency
2017 Obsessive Compulsive Practice FAB Festival, Bath
2017 Lodger Westminster Reference Library, London
2017 Creekside Open APT Gallery, Deptford
2017 Art + Text 44AD, Bath
2016 Broken Grey Wires Islington Mill, Manchester
2016 Art Language Location Anglia Ruskin University, Cambridge
2016 Forgetting, By Other Means​ The Tram Depot, Clapton
2016 Stray, The Prologue The Undercroft, Norwich
2016 Compromised Collaborations The Media Centre, Huddersfield with Fay Stevens
2016 20 in 15 Mine Gallery, Carshalton
2015 Memories and Dreams King's College Chapel, Cambridge 500th anniversary event
2015 Art Language Location Cambridge Junction, Cambridge
2015 Library Interventions Leeds College of Art Library, Leeds
2015 Disobedient Art FAB Festival, Bath
2015 On The Map Sunbury Embroidery Gallery, London
2015 The Space BetweenSalisbury Arts Centre, Salisbury
2015 Lives of the Artists Westminster Arts Reference Library, London ​

solo exhibition
2014 Cambridge UX Churchill College, Cambridge
2014 Art Language Location Plurabelle Books, Cambridge
2014 A Memorial to the Unread Bank Street Arts, Sheffield ​

residency and exhibition
2014 Tall Tales FAB Festival, Bath
2014 Jawspring Village Hall Trust Gallery, Wimbledon
2014 DemolitionAid&Abet, Cambridge
2014 Querimonia BluesCasa Orlandai, Barcelona
2013 Art Language Location CU History of Art Library, Cambridge
2013 Leeds Book Fair Leeds with Guerrilla Writers
2013 In Other Words FAB Festival, Bath
2013 Museums at Night Sainsbury Centre for Visual Arts, Norwich
2013 Aid&Abet Open Salon Kettle's Yard, Cambridge
2012 12-12-12 Bank Street Arts, Sheffield
2012 Text&Context Bridge Street, Cambridge
2012 Brief Permanence Regent Street, Cambridge
2011 If Not Now, Whenever Redchurch Street Gallery, London
2011 Evanion Collection British Library Online
2011 CRISIS Cambridge Artworks, Cambridge
2011 Re:Location Church End Mission, Cambridge
2010 Shelved Plurabelle Books, Cambridge
2010 The Butterflies of Alwyn Thomas Williams Art, Cambridge
Return to gallery