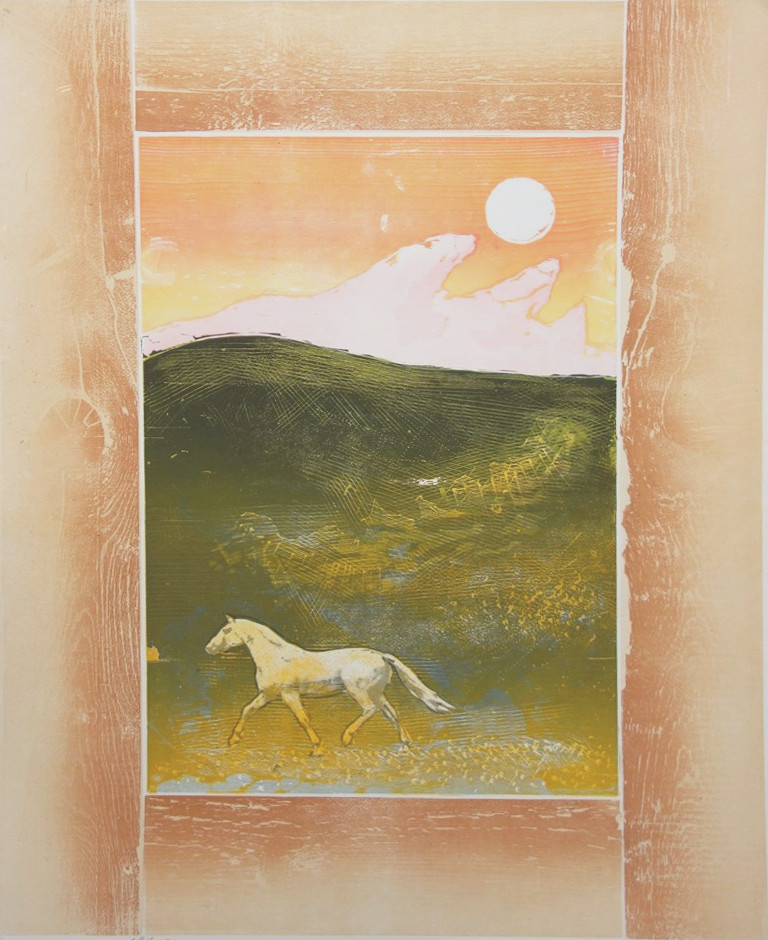 Michael Rothenstein – Horse and Sunrise, 1974, Wood and linocut
Michael Rothenstien was born in 1908 in Hampstead, London and the youngest of four children of Sir William Rothenstein and Alice Knewstub. His brother John became a director for the Tate Gallery and had connections with the Bloomsbury Set.
He was home schooled and studied art at Chelsea Polytechnic and later at the Central School of Arts and Crafts. Affected by lingering depression, Rothenstein did little art making during the late 1920s and early 1930s. Despite this, he had his first one-man show at the Warren Gallery, London in 1931.
His work and style of the late 30's and early 40's was part of the neoromantic watercolourist set that artists like Thomas Hennell, Claude Muncaster, Eric Ravilious and Paul Nash had been championing. This is best showcasted by the work he created for the Recording Britain project.
In 1941 Rothenstien moved to Great Bardfield, staying first at The Place House, where John Aldridge also lived, before moving to Ethel House.
As his style progressed and away from the Recording Brtiain project he could be more abstract and free with this artworks. He started a long assositation with the Redfern Gallery with his first show there in 1942.
Living in Great Bardfield in the 1940's had Rothenstein in contact with artists like John Aldridge, Edward Bawden and Kenneth Rowntree. Bawden moved to the village in 1925 and Rowntree in 1939. Following Rothenstein over the next decate would be George Chapman, Stanley Clifford-Smith, Audrey Cruddas and textile artist Marianne Straub. The village would go on to hold events and make it one of the artistic centres for East Anglia alongside Colchester and it's School of Art.
During 1945 he submitted a lithograph for the Schools Prints series, it was the fifth print of the first series and is one of his most recognisable works. He illustrated the Sussex volume of Visions of England in 1947.
In the 1950's Rothenstein embraced printmaking working in every area of the medium. The prints he produced were modern and colourful and very chunky. In this form of printmaking he had discovered his true style making the farmyards and fields of Great Bardfield into lively prints.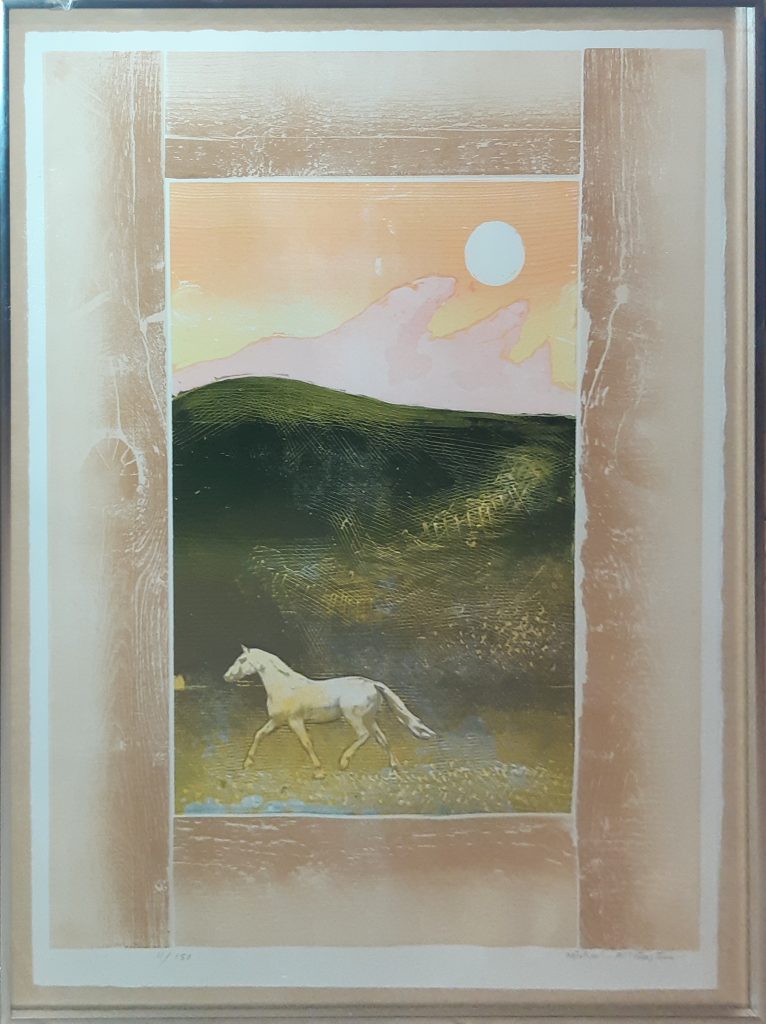 Return to gallery