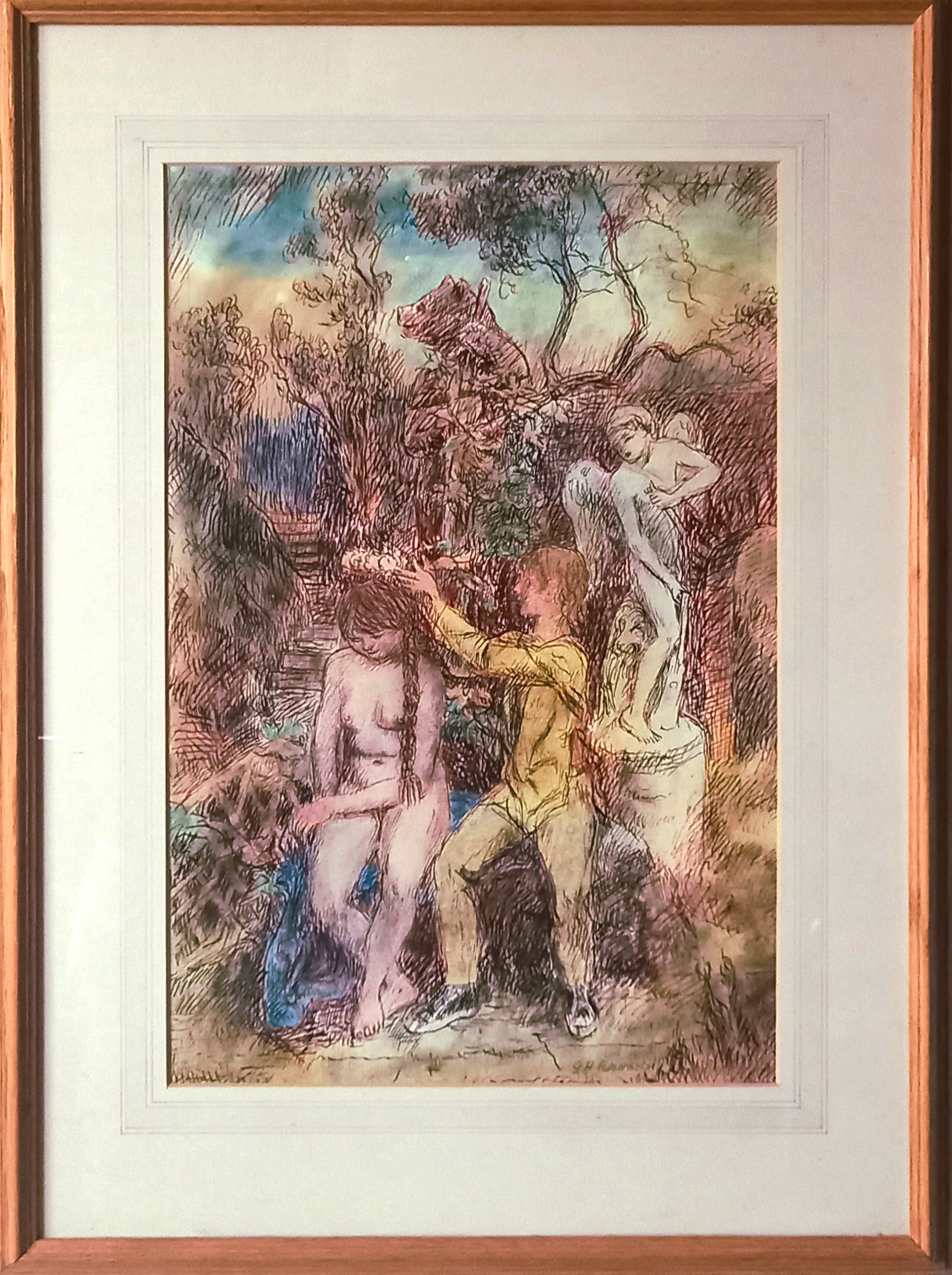 Geoffrey Hamilton Rhoades (1898-1980) – Bacchus and Ariadne, 1967, Watercolour and Pen
As so often is the case of artists who enjoy a rich inner life, Geoffrey Rhoades' outward circumstances were comparatively uneventful. Geoffrey Hamilton Rhoades was born in London in 1898 and died at Cuddington in 1980. After being educated at Dulwich College he spent two years at Clapham Art School before serving in the Mercantile Marine from 1917 to 1919. In 1919 he joined the Slade School under Professor Tonks who said to him when he left: "You've something I haven't — imagination''.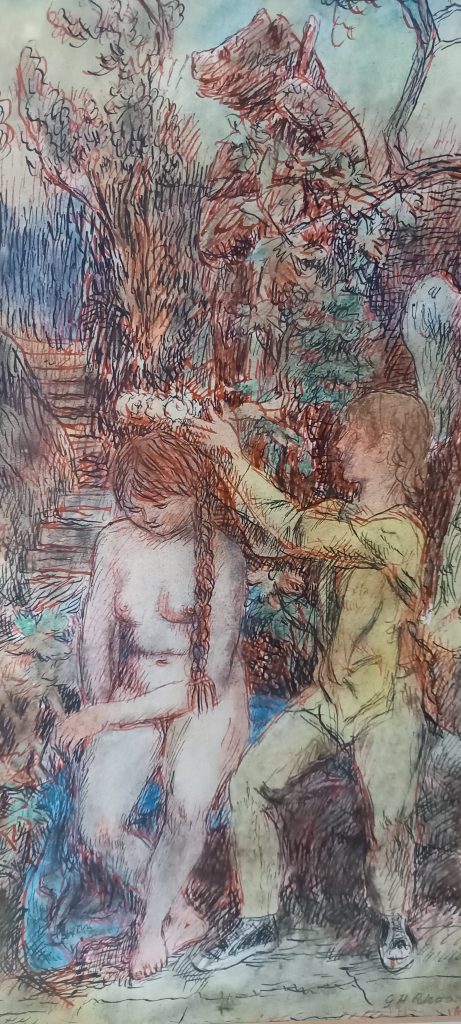 This was abundantly true and was increasingly the inspiration of his work, which was continually nourished by his passion for the natural world which is evident in his landscapes and drawings and paintings of plants. Many of his figure compositions reflect the Greek myths which he must have absorbed in his classical studies at Dulwich. During his years at the Slade he was a frequenter of Barnett Freedman's studio off the Tottenham Court Road where he met, besides other students, established artists such as Albert Houthuesen, Percy Horton and James Laver. Some time after leaving the Slade he was put in touch by John Mansbridge with Mr. and Mrs. Turnor who were opening their immense house, Stoke Rochford in Lincolnshire, for summer schools. They invited him to join them for an indefinite period, and he stayed there for two years; painting family portraits, a few murals and a number of landscapes in addition to drawings and watercolours.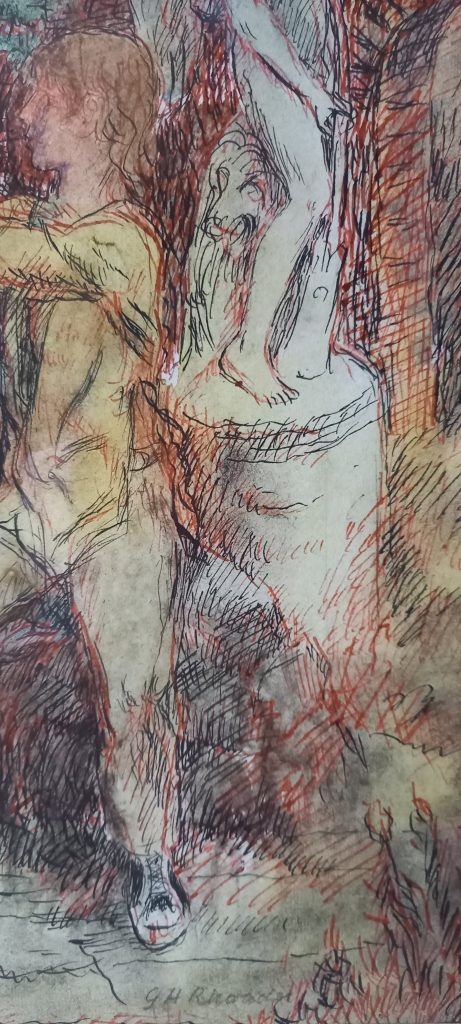 On his return to London Percy Horton asked him to join him in teaching at the Working Men's College in Crowndale Road. On Geoffrey's saying that he knew nothing about teaching Percy replied ''You'll be all right''. Indeed he was, and turned out to be a naturally gifted teacher. This stood him in good stead when he took the place of Percy Horton at Bishop's Stortford College in Hertfordshire, where for fifteen years he taught the boys not only drawing and painting but crafts as well.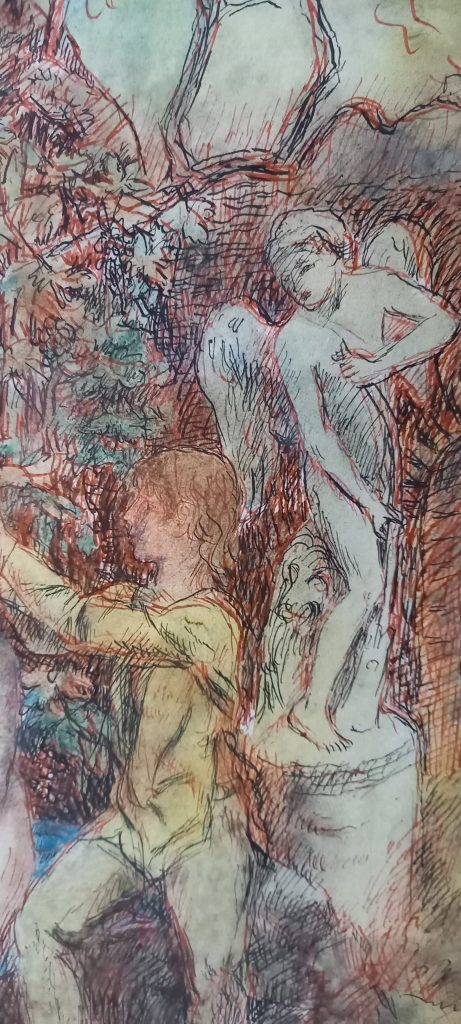 From 1954 to 1972 Geoffrey taught at the Ruskin School of Drawing in Oxford and it was probably here that the full scope of his abilities as a teacher was revealed. His standards were high but he could usually perceive what a student was trying to do and help him or her to do it. Though never destructive, his comments could be disconcerting, as when, having asked to look at the palette of a student who had got into a muddle, he handed it back saying pleasantly ''It looks like goose's mess.'' His students loved him. During these years the Rhoadeses (he married Joan Jenner in 1934) lived at Cuddington near Aylesbury, where his widow and their son Peter, also a gifted artist, still live.
Of Geoffrey's paintings Hans Feibusch has written: "Geoffrey Rhoades' art has grown steadily and organically from the more or less direct rendering of a particular landscape to the deeper moods that lie behind her forms and colours. His palette has changed gradually from light and cool tones to darker, richer ones, and the outlines of his subject from the precise and clearly defined to the broad and more general. The curious atmosphere, sometimes brooding, even slightly frightening, sometimes gay, that envelops his landscapes and the figures, forest deities or village girls, in them, is created by a rich texture of paint, applied in small touches. Rhoades loves to go over his pictures again and again, sometimes after long spells, enriching and deepening them' and thus creating a sensuous quality of texture. Lights and shadows flicker over the surface, bringing out part of a figure here or a branch there. Other forms gleam uncertainly out of semi-darkness. Often it seems as if a mysterious rite were being enacted. The pictures glow, they grow in significance the longer one looks at them." – Richard Naish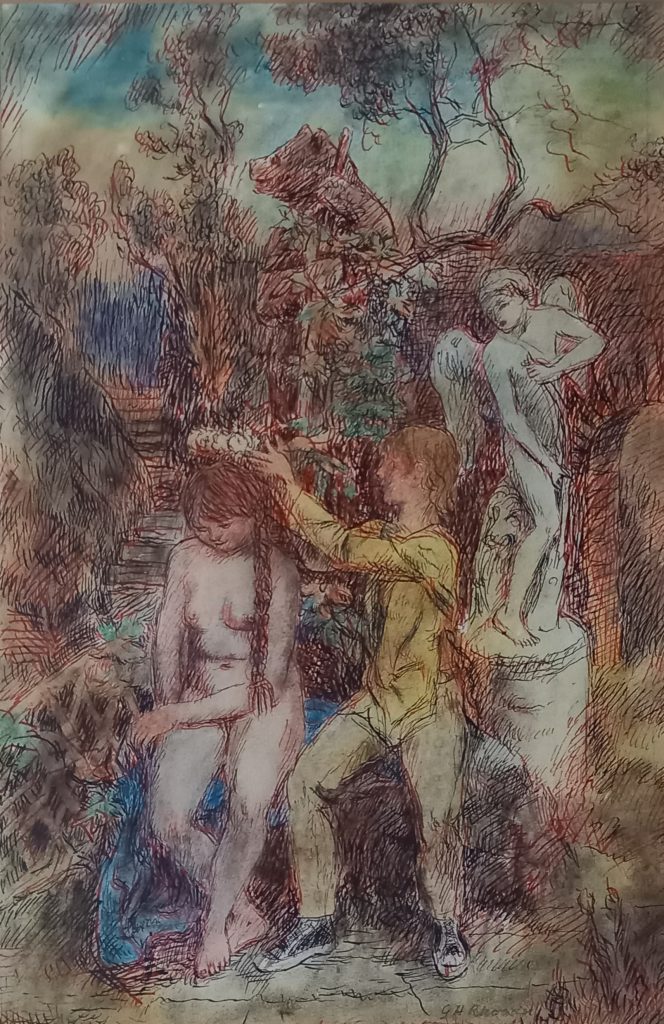 Return to gallery