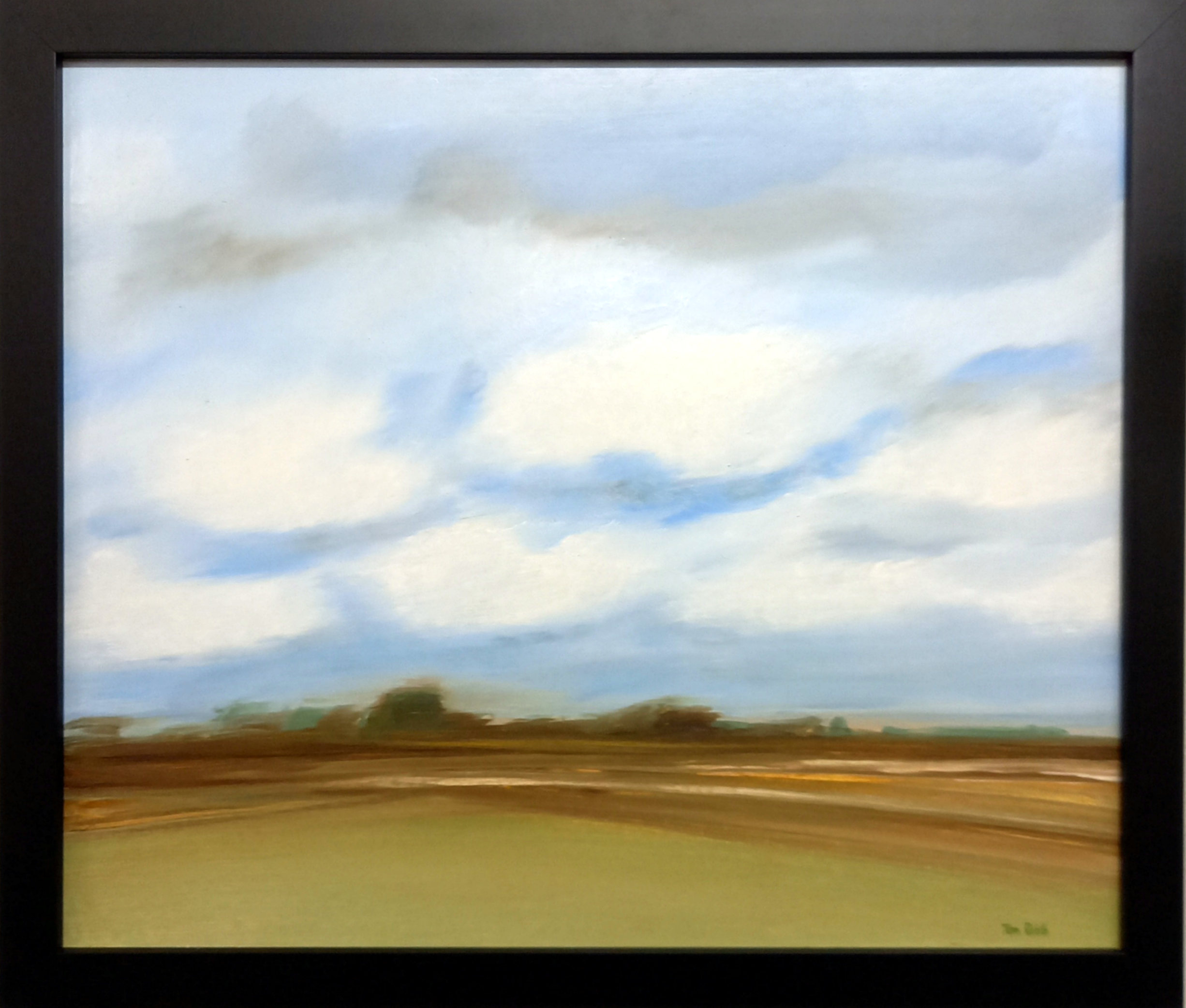 Tom Robb (b.1933) – Kent Landscape, c1975, Oil on Board
Tom Robb was born in Edinburgh in 1933. His father was an engineer, his grandparents farmers and fishermen. When he was six his family moved to Carlisle, close to the airfield where his father inspected Spitfires and Lancaster bombers. He won a scholarship to grammar school and won a place in an art school in 1948 due to his exceptional gift for drawing and painting. He gained a place at the Royal College of Art but two years of National Service in Germany delayed his entry.
His tutors at college included Rodney Burn, Rodrigo Moynihan, John Minton (who he was particularly close with) and Carel Weight. His contemporaries included Ken Howard, Peter Blake and R.B. Kitaj. He was a close friend of Carel Weight till his death in 1997. He married Jeannie in 1958, they had two children and remained together till her death in 2008.
Whatever it is, the way you tell your story online can make all the difference.

Immediately after leaving the RCA, he got a full-time teaching post in Wigton then later at Hornsey College of Art where he taught a generation of artists including Anish Kapoor. He moved to Putney in 1971 and became a keen sailor and later Commodore of Ranelagh Sailing club.
In 1983, publisher Phoebe Phillips approached him to contribute to a new book based on the art school year called Painter's Progress, edited by his close friend Ian Simpson who was head of St Martin's College of Art. This began a life long friendship with Phoebe and he went on to publish 26 books with her, mostly on painting and drawing but also on collecting and antiques. He was an active member of the Langham Sketch Club in Chelsea and continued to draw from life well into his 80's. He was very gifted in all practical matters, an expert book-binder and print-maker, an engineer and a true craftsman.
1933 – Born in Edinburgh, one of five children, his father was an aircraft engineer for the RAF
1948 – 1953 – Attended Carlisle College of Art
1953 – 1955 – National Service in Germany
1955 – 1958 – Attended the Royal College of Art where he was taught by Carel Weight, Rodney Burn, John Minton and Rodgrigo Moniham
1958 – Married Jeannie Anne, they had two children Jeffrey and Liam
1965 – Started work at Hornsey College of Art as Lecturer in Visual Research
1968 – Head of Foundation Hornsey College of Art (students included Anish Kapoor)
1960 – 1970 – Group Shows at John Whibley Gallery, Cork Street
1965 – 1975 – Exhibited with the New Grafton Gallery
1971 – Solo show with John Whibley Gallery, Cork Street
1971 – Moved to Putney, South West London
1973 – Solo Show with John Whibley Gallery, Cork Street
1973 – Head of Department of Coordinated Studies Middlesex Polytechnic
1974 – Became a member of Chelsea Arts Club
1980 – Fellow of the Royal Society of Art
1983 – Head of School of Fine Art at Middlesex University
1983 – A Painter's Progress published (Ed Ian Simpson)
1983 – Begins a lifelong association with publisher, Phoebe Phillips.
1986 – Chairman of the National Society for Fine Art Education
1986 – Pack Up and Paint (6 Book Series) published by Alfred A Knopf
1987 – Professor of Fine Art and Head of School of Fine Art Studies at Middlesex Polytechnic until his retirement from education in 1994
1986 – 2012 – Published 26 books on painting, drawing and collecting which have been translated into 16 different languages.
Return to gallery