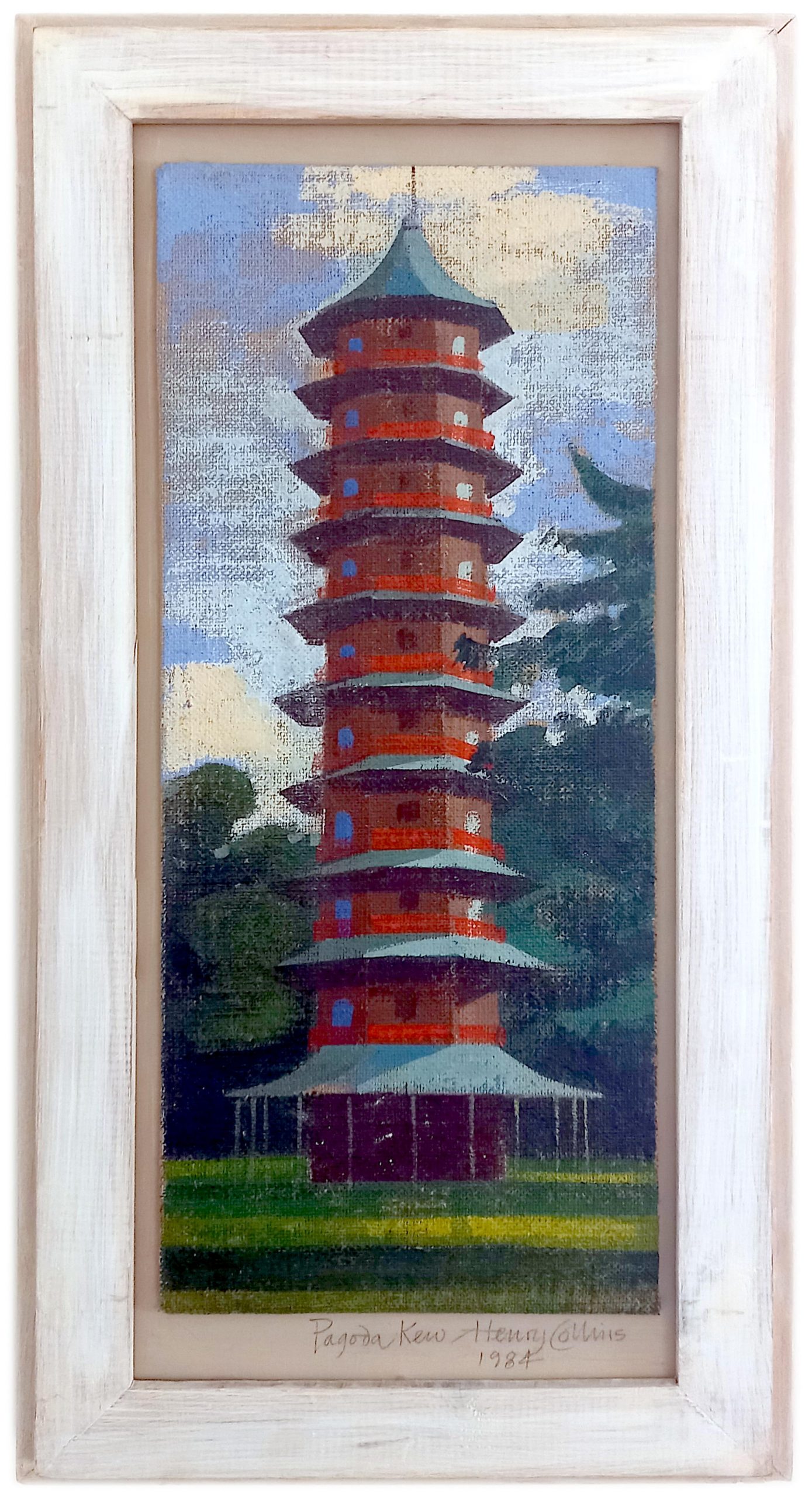 Henry Collins (1910-1994) – Pagoda, Kew Gardens, 1984
Henry Collins was an artist and designer born in Colchester in 1910. He studied at the Colchester School of Art in 1932 where he met his wife Joyce Pallot, and the Central School, London. During World War II he served in the Royal Artillery and the Royal Engineers. After the war, Collins worked as a freelance designer and established himself as an artist following a commission by the Central Office of Information at the Festival of Britain in 1951.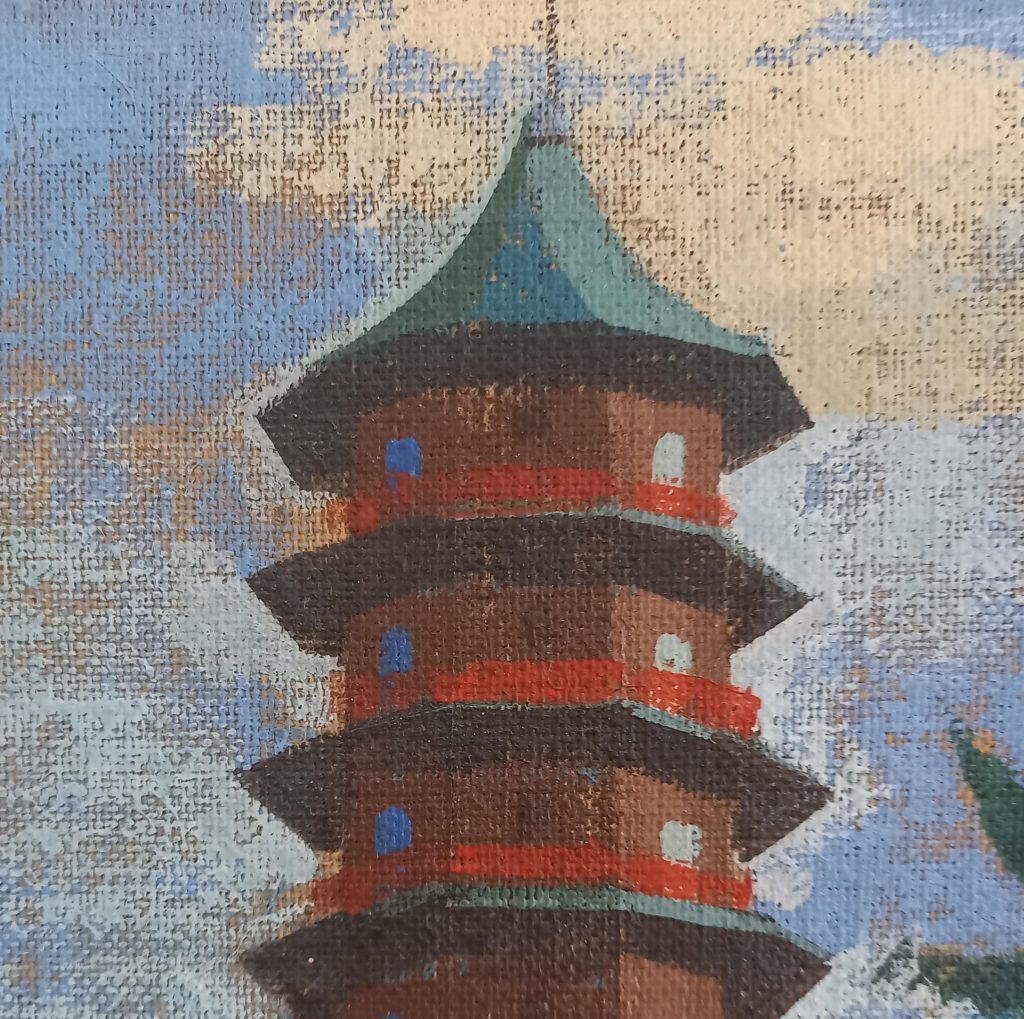 Collins was also an educator teaching at St Martin's School of Art, London and the Colchester School of Art and was a founding member of the Colchester Art Society. Collins designed the Colchester Art Society's logo and designed the posters for the Colchester Arts Society's first exhibition at the Colchester Castle. Collins also designed a poster for Transport for London in 1935 titled Cheap Return Fairs. Following Henry Collins death in 1994, a memorial exhibition was held at Essex County Libraries 1995-1996.
Joyce and Henry worked together on a series of mural commissions from 1948 and completed over 60 projects in the UK. Mostly these murals were made in concrete.'

The Pagoda at Kew Gardens is an iconic landmark of London. Kew's Pagoda was completed in 1762 as a gift for Princess Augusta, the founder of the Gardens. It was one of several Chinese buildings designed for Kew by Sir William Chambers, who had spent time travelling and studying the architecture of East Asia. A popular 'folly' of the age, it offered one of the earliest and finest bird's eye views of London.
The Great Pagoda was restored in 2018 to its original 18th century splendour. This includes the 80 dragons which originally adorned the roofs, each carved from gilded wood. The dragons were removed in 1784 and were rumoured to have been sold to settle George IV's gambling debts. However, experts believe that since they were made of wood, they had simply rotted over time. This painting, like Edward Bawden's linocut thus is missing the dragons that are on it now.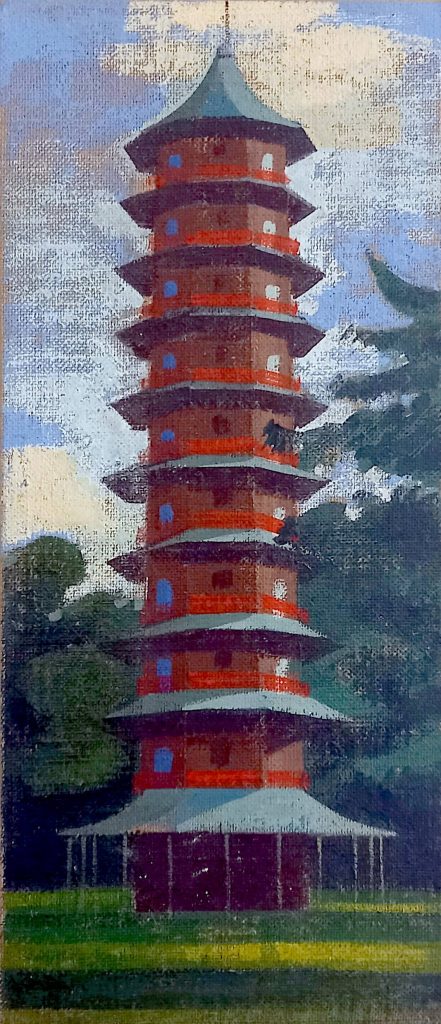 Return to gallery