Percy Jowett was born in Halifax, Yorkshire on 1st June 1882. He studied at Leeds College of Art under Gerald Moira from 1902-1904. In 1904 he entered the Royal College of Art in London on a Royal Exhibitioner scholarship and receiving his Diploma in 1907.
He first exhibited at the Royal Academy in 1907, and continued to exhibit there until the 1920s.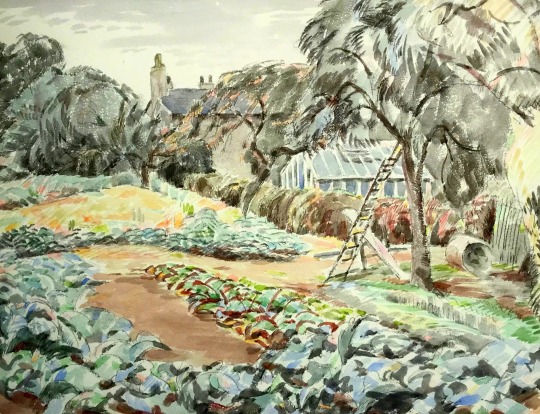 Percy Hague Jowett – Orchard Garden, (In My Collection)
In 1910 he won the Prix de Rome, a Travelling Scholarship in Painting allowing him to travel to Italy and the British School in Rome. He taught for a time at Beckenham School of Art before serving in the Royal Garrison Artillery, seeing action in France and Flanders during World War I. While at Beckenham he would teach Charles (Cyril) Mahoney and be on a staff with R. V. Pitchforth and Henry Carr.
He was married 11 Sep 1912, at St John the Evangelist, Putney, London, SW, to Enid Ledwood, sister of the sculptor, Gilbert Ledwood. Before he was married he shared lodgings with Newbury Abbott Trent at 14 Gunter Grove, Chelsea. Trent also married one of Gilbert's sisters.
In 1927 Jowett was appointed Head of Chelsea School of Art. In 1935 was appointed Principal of the Royal College of Art replacing William Rothenstein. While at the RCA he gave the sculptor Henry Moore his first job and would have been at the centre of the current and future art world in the UK. Other candidates suggested for the Principal were Noel Carrington, H.H.Holden (the Principal of Birmingham), A.B.Knapp-Fisher; W.M.Whitehead and Edward Montgomery O'Rorke Dickey (of the Board of Education / War Artists Scheme).
Jowett was to help move the RCA into both a place to refine artists but also to make a bridge between artists and manufactures, from designs in furniture and publishing to wallpapers and fabrics.
Jowett had a broad teaching experience and as a painter, he had exhibited widely. He had proven his ability to get on well with manufacturers, as well as with fellow heads of educational institutions. He also, though a fine artist, realised the importance of industrial art, a key factor when the Board was facing criticism over the College.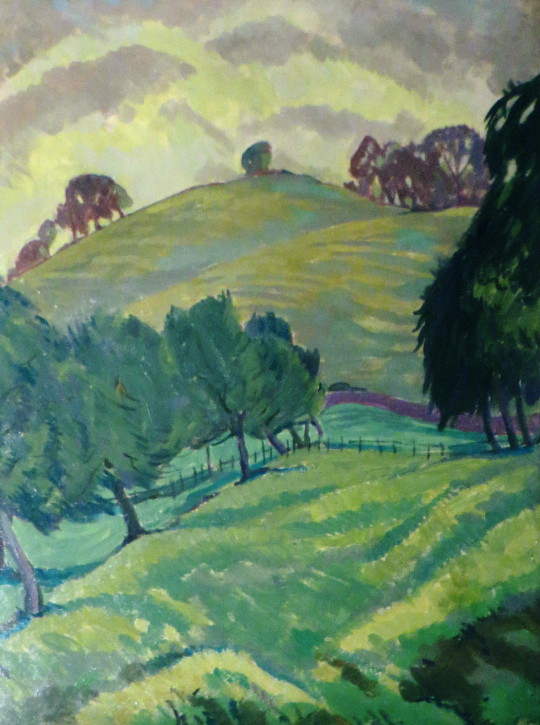 Percy Hague Jowett – Hillside, (In My Collection)
He was invited by the print-maker Claude Flight to join the 'Seven & Five Group'. In 1921 Jowett acted as the Secretary of the Seven and Five Society and would be replaced by John Piper in 1934.
The Seven and Five Society was an art group consisting mainly of ex-servicemen who had been art students before the war. Their goal was to exhibit  work rather than have a bold manifesto or be tied to a art style. It was easier to exhibit work in large numbers as the cost would be reduced on mass. The society was set up in 1920 but in 1924 Ben Nicholson was made a member. He more or less became a cuckoo in the nest for the group and elected his friends. In 1929 the group added the new members of Christopher Wood, Cedric Morris, Sidney Hunt, William Staite Murray, Frances Hodgkins, Jessica Dismorr, Evie Hone, Edward Wolfe and David Jones, as well as Alfred Wallis as a guest exhibitor. Nicholson voted to change the name to the '7 & 5 Society' to look more modernist but failed to get the group changed to '7 & 5 Abstract Group'.
The old members were confused and angry that their group was being steamrolled into following his way and Nicholson added a new rule that exhibitions were to be non-representational and the hanging committee were only empowered to select and hang abstract work finally segregating the original members. The reaction was the departure of a number of artists in 1934: Edward Bawden, John Aldridge, Frances Hodgkins, Cedric Morris, Len Lye and the previous secretary, Percy Jowett. Replacement members and exhibitors included John Piper, Arthur Jackson and John Cecil Stephenson, all of whom worked in a non-representational manner. After this point the group renamed itself as the 'Seven and Five Abstract Group' in 1935 but only had one show after the point and the group was disbanded.
Jowett exhibited 11 times out of the society's 14 shows from 1921-1933.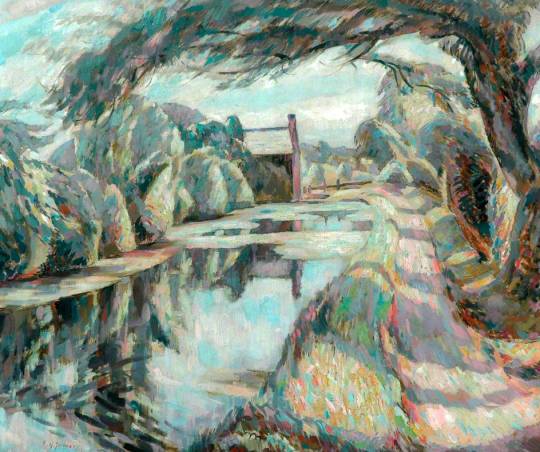 Percy Hague Jowett – Canal, 1936 (The Hepworth Wakefield)
Jowett exhibited 12 times at the Royal Academy, he was a member and exhibitour at the Royal Watercolor Society, R.W.A., N.E.A.C., New English Art Club, Redfern Gallery, the Fine Art Society and in the provinces and abroad.
He was elected a member of the New English Art Club.
During World War II he served on the War Artists' Advisory Committee alongside Kenneth Clark, then Director of the National Gallery.
Percy Jowett considered Evelyn Dunbar 'A very fine artist who has done excellent decorations as well as drawings.
He was an outstanding teacher, remembered with affection by his students, and this has probably obscured his reputation as an artist.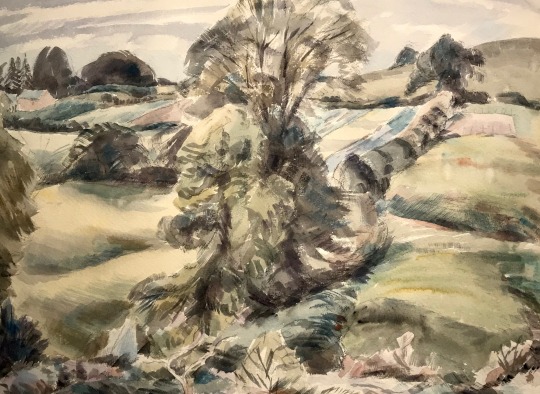 Percy Hague Jowett – Landscape with trees, 1940
His one man shows were held at St. George's Gallery in 1923, 1925, 1927 and 1929. He was elected a member of the N.E.A.C. 1929, A.R.W.S. 1936, R.W.S. 1938. His work is in the collections of many galleries, including the Hepworth Wakefield, Laing, Leeds University and Gloucester Museum Service, The British Government Art Collection, the Victoria and Albert Museum and many private collections. The Michael Parkin Gallery held an exhibition of his work in 1995.
Jowett lived in London and died on 4th March 1955 while residing at 28 Drayton Gardens, SW10. Enid died 10th October 1971, while residing at 28 Drayton Gardens, SW10. The Jowetts are buried at Putney Vale Cemetery and Crematorium, Wimbledon, London Borough of Merton, Greater London.
Brian Foss – War Paint: Art, War, State and Identity in Britain, 2007
John Rothenstein – Modern English Painters, 1984
Simon Fenwick – 200 Years of the Royal Watercolour Society, 2004
Catherine Moriarty – The Sculpture of Gilbert Ledward, 2003