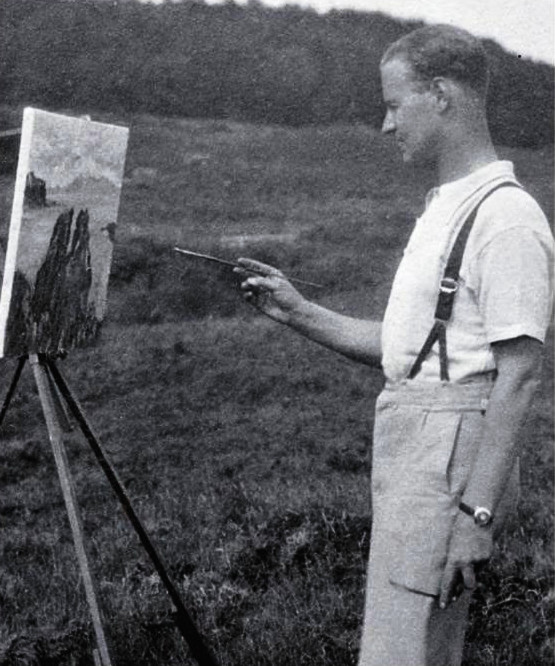 Douglas Davidson – Painting on Isle of Eigg, 1932
Douglas Davidson was a Cambridge student at Magdalene College, and two years older than then Steven Runciman at Trinity College, Cambridge. They both became part of a set of friends around Dadie Rylands, who via Lytton Strachey at Cambridge, introduced Davidson to the Bloomsbury group. Douglas and his brother Angus also came to know Duncan Grant, Vanessa Bell and their friends in the early 1920s. Douglas's work can be seen in Duncan Grant's home, Charleston, including the large rug he designed in Duncan Grants bedroom, a gramophone and some textiles. Douglas was a lover of both Steven and Duncan.
Douglas Davidson, a Magdalene undergraduate two years Steven's senior, was assumed by Topsy Lucas to have been his lover. After one party of Steven's attended by Davidson, Topsy complained of 'moments of loneliness, when S et al all disappeared and I longed for someone to hold my hand'; she then stated in a rattling staccato, 'I love Steven. Douglas has been with him'.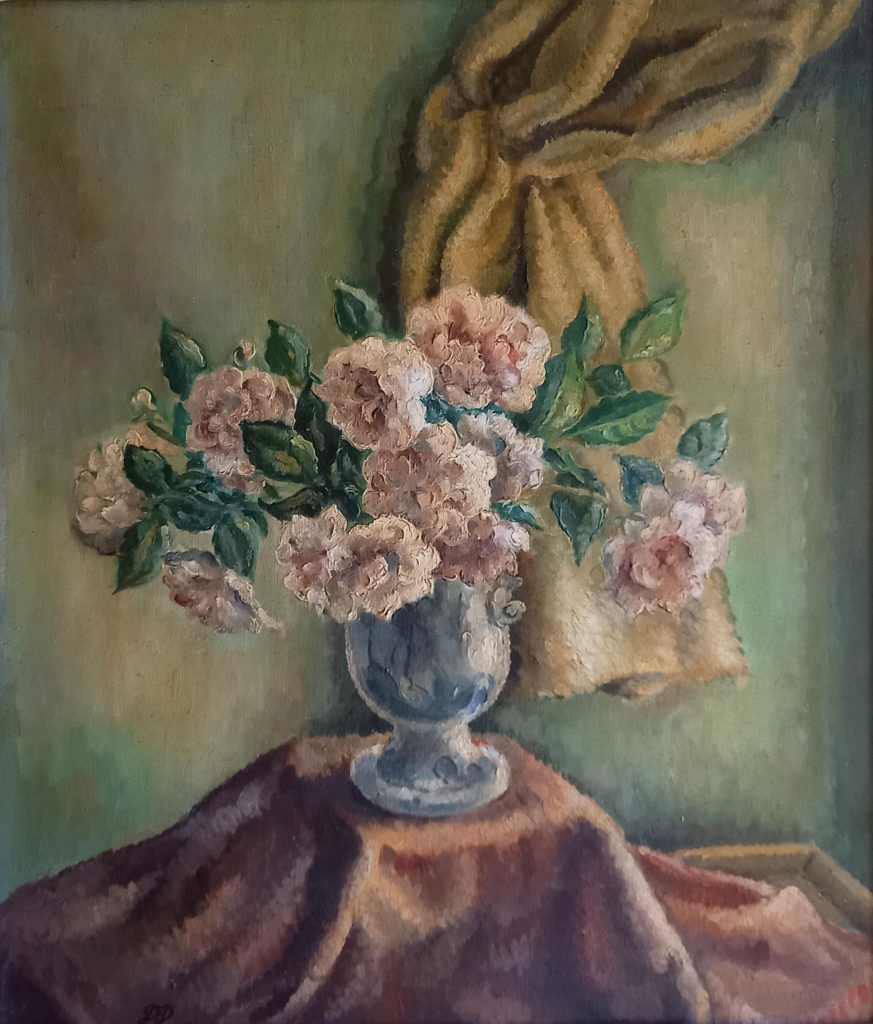 Douglas Davidson – Flowers
Dadie Rylands, despite or because of his youth, was becoming a social prize and an impresario in his own right. Douglas Davidson, shortly to become, alongside Dadie, Steven's closest friend in Cambridge, was a painter in the manner of Duncan Grant (briefly his lover); his brother Angus was a skilful translator from Italian who would take over from Dadie as assistant at the Hogarth Press in 1924. Like most young, ambitious, gregarious people, these 'Bloomsbury connections' saw themselves as fixed points in their own lives and dramas, not satellites in some stronger, overarching orbit.

Outlandish Knight: The Byzantine Life of Steven Runciman
Douglas Davidson along with Dora Carrington decorated the Cambridge rooms of Dadie Rylands in the King's Garden Hostel, and some of his oil paintings are on the stairwell. They are now guest rooms and an Accounts office for the University. Douglas Davidson painted the sitting room in 1927 and Carrington painted the doors and fireplace in the drawing room in 1928. However some of his efforts were painted over later and one replaced by another design by Carrington. The murals and tiles were later restored by Nan Youngman at the request of Rylands while he went on a cruise.
Dadie Rylands lived in the Kings College Garden Hostel, by the university library. Though there are not many photos of it around, there are reports of tiles designed by Vanessa Bell and Duncan Grant for the stairs.
Another Bloomsbury figure, and indeed former Hogarth employee, who visited Dadie at King's was the artist Dora Carrington. Having already asked his friend Douglas Davidson to decorate his sitting room in 1927, Dadie commissioned Carrington to paint the doors and fireplace in his main drawing room the following year.
A Room of Unknowns'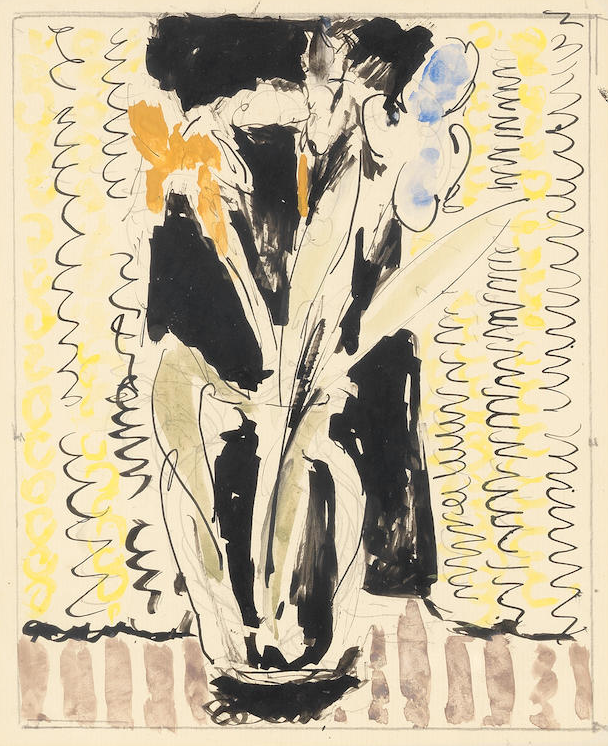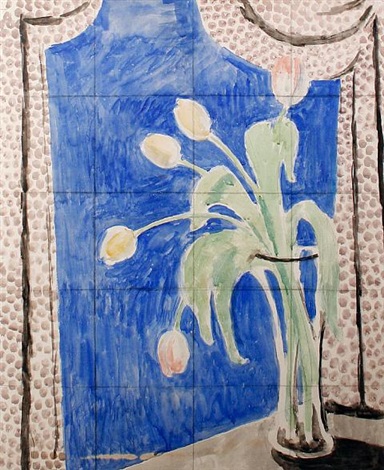 King's Garden Hostel is situated to the south of Clare Memorial Court, between the driveway to the University Library and the fellows' garden of King's. The hostel is planned on the corridor system, so that as many rooms as possible face south across the lawns towards West Road.
On the ground floor of the short eastern arm is the breakfast room, with a curtain designed by Graham Sutherland. In the two staircases there are ornamental panels in ceramic tile designed by Quintin and Vanessa Bell and there is a small painting by Duncan Grant.
There are many other paintings in Kings College that were donated by Maynard Keynes including Grant and Bell works. In those decorated rooms by Davidson, Carrington and Grant, Virginia Woolf lunched with Dadie and recorded it in A Room of One's Own (1929).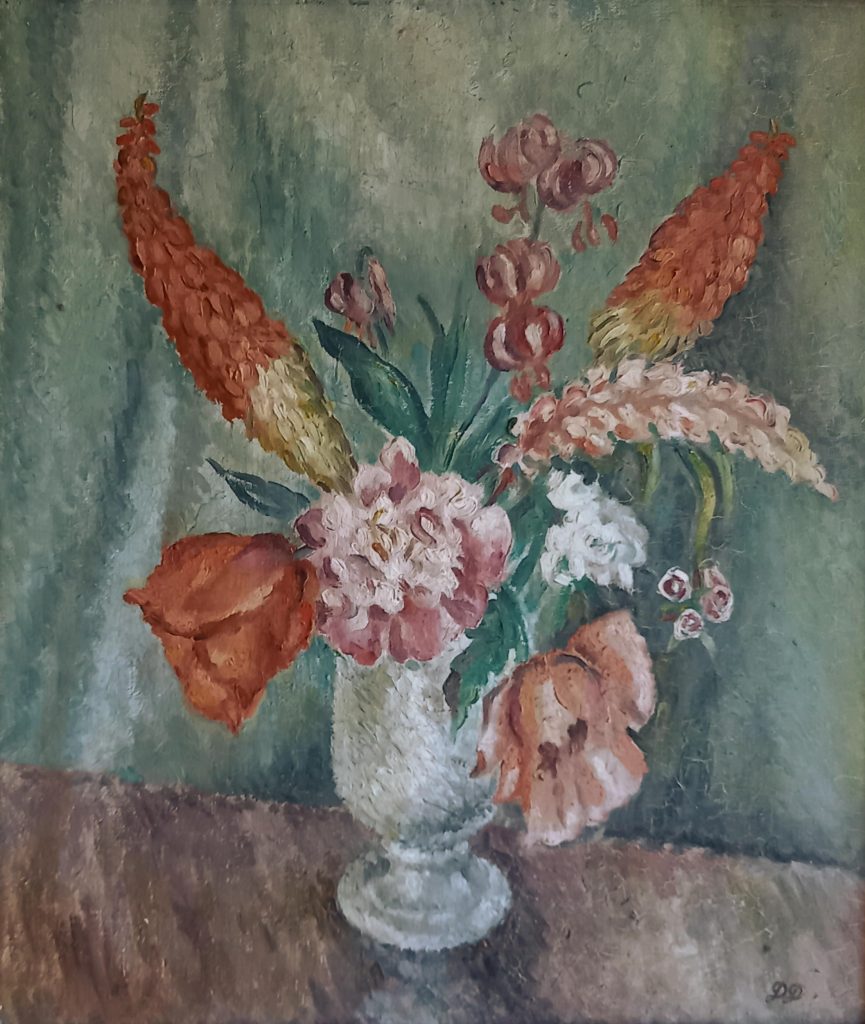 Douglas Davidson – Flower tops
Bloomsbury in Cambridge
Douglas's work in Cambridge isn't the only bit of Bloomsbury about. There are some beautiful murals by Duncan Grant and Vanessa bell in the old rooms of John Maynard Keynes. For some time they were hidden under wallpaper and in the 1990s they were uncovered and in the 2000s were restored.
Bell and Grant were accustomed to working together, a pattern that continued beyond the Omega years, when they collaborated on a number of domestic decorative schemes. The pair were commissioned to produce eight decorative panels depicting the Muses of the Arts and Sciences for John Maynard Keynes's study at Cambridge, to complement the mural painted there by Grant in 1910. Bell took the female figures and Grant the male, but as the set of oil studies for the panels show, their execution is so similar as to make it hard to distinguish each individual hand.

Florence Hallett – Apollo Magazine, March 2018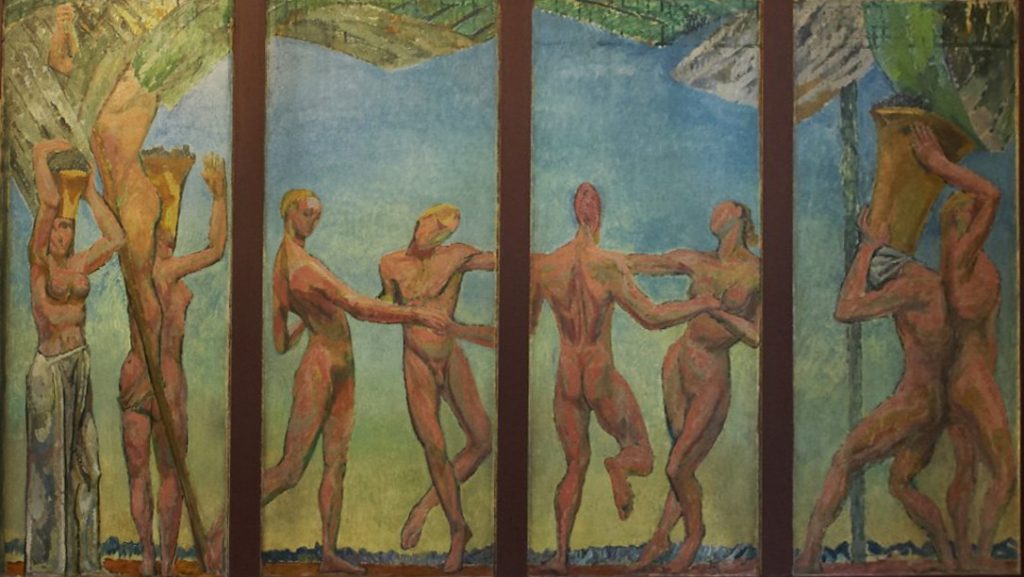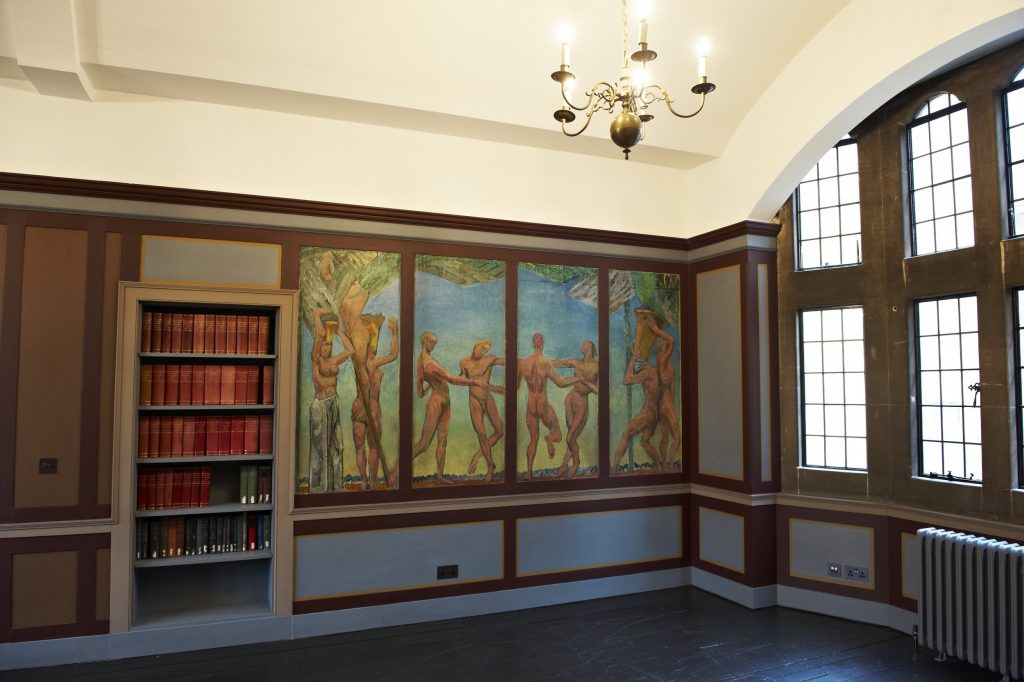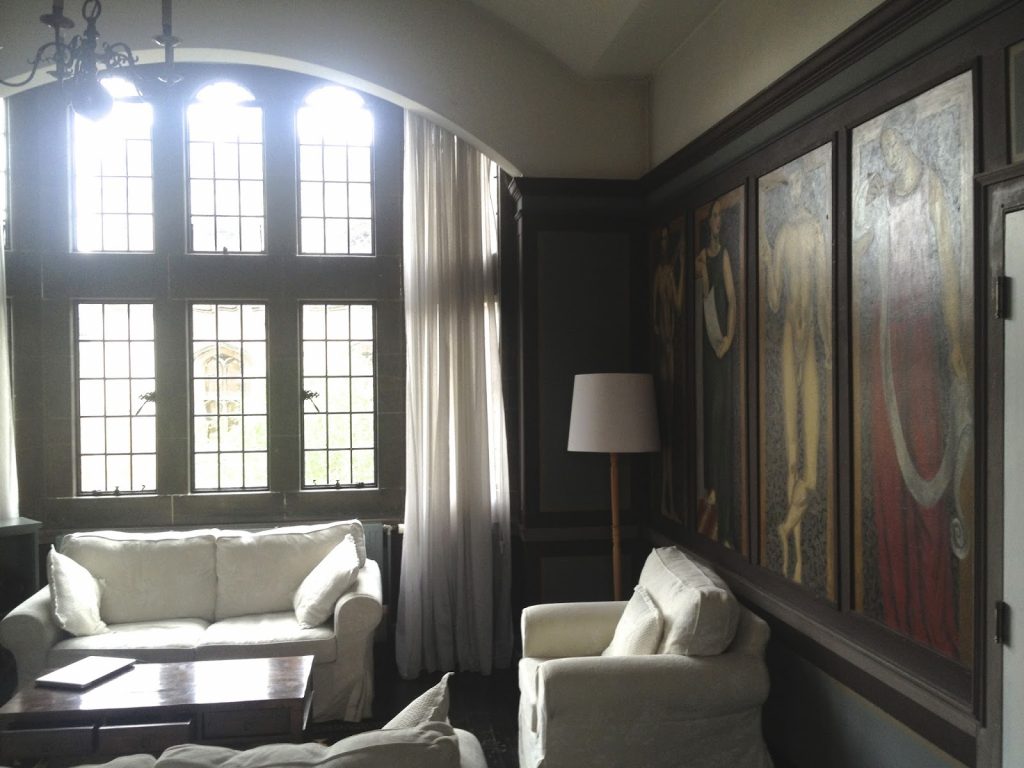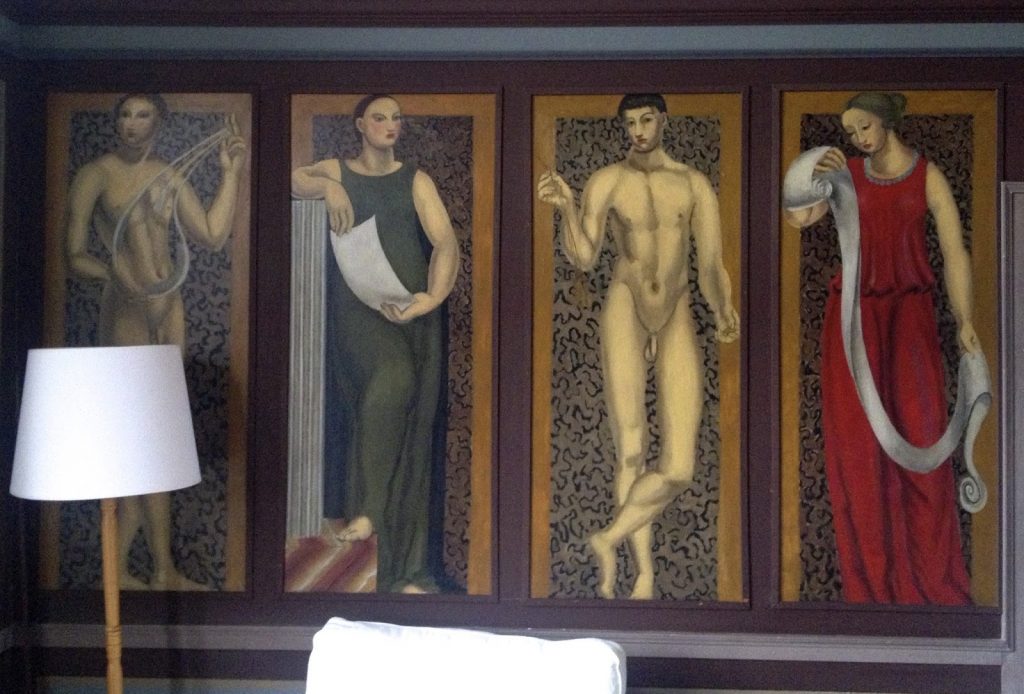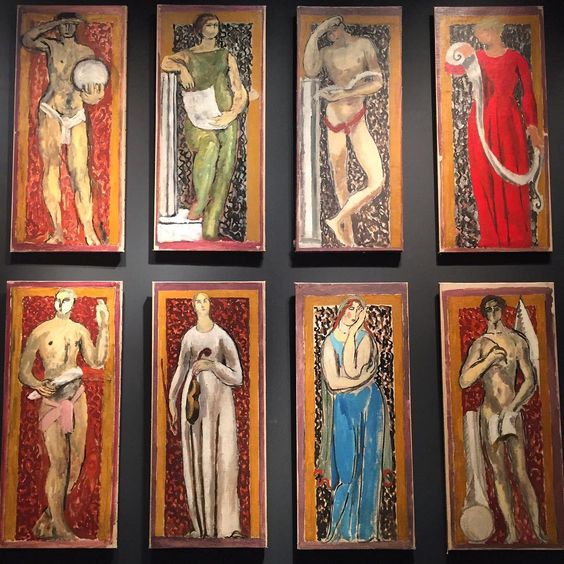 Maynard's circle of young men in the early 1920s included not just the four Penrose brothers (Alec, Lionel, Roland and Bernard – the first two, Apostles) but the Davidson brothers, Angus and Douglas, who were taken up by Bloomsbury.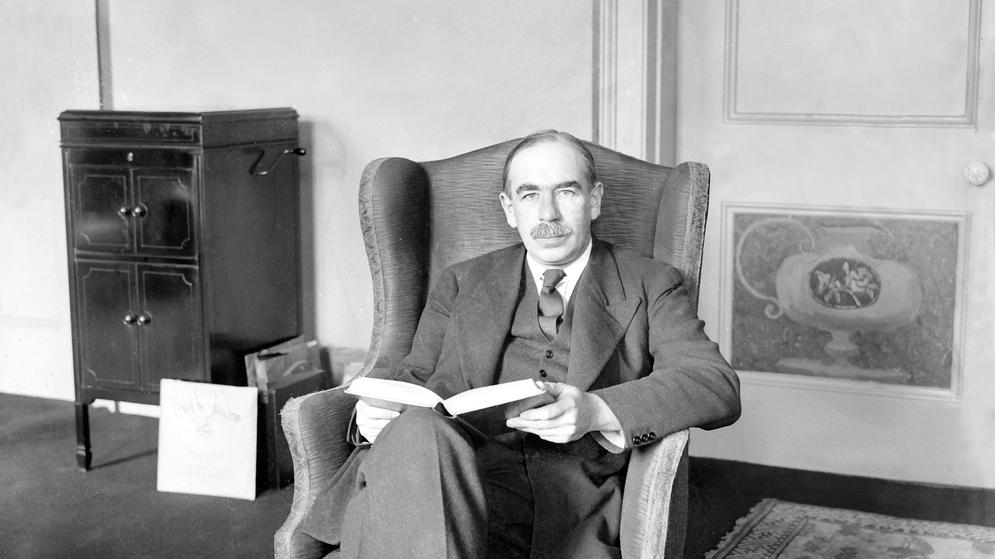 This satirised most of Bloomsbury and was based on a topical scandal. Garnett … In Act I the Beauty Chorus consisted of three ladies, each of them over six foot tall, whose parts were taken by Angus and Douglas Davidson and Dadie Rylands.